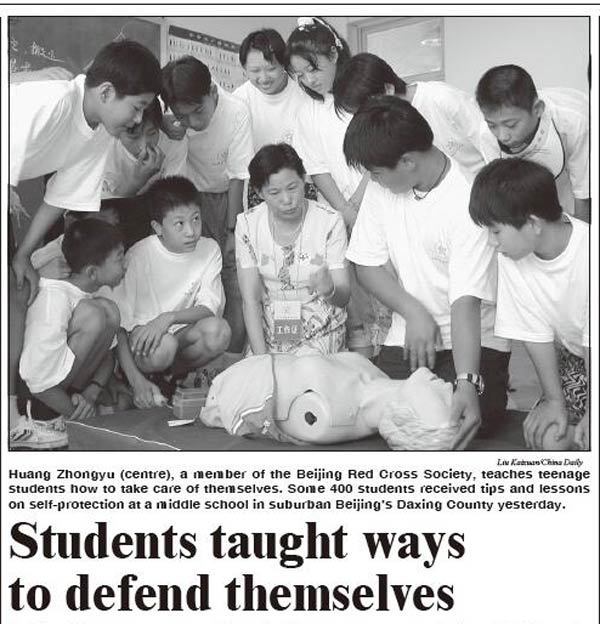 Item from Aug 11, 1999, in China Daily: A member of the Beijing Red Cross Society teaches teenage students how to take care of themselves. Some 400 students received tips on self-protection at a middle school in suburban Beijing yesterday.
China has initiated a nationwide program that aims to teach teenagers how to protect themselves when harassed or attacked. ... Ever since a 14-year-old girl was kidnapped and murdered near her home in Beijing recently, increasing attention has been given to protecting teenagers.
Bullying and sex assaults are on the rise at schools across China.
Courts in the capital alone have heard about 200 criminal cases related to school violence in the past five years, according to the High People's Court in Beijing. Almost 14 percent of these cases involved verbal and physical assaults. While some victims were insulted, others were slapped on the face, burned with cigarettes, or stripped naked for photos.
From 2013 to 2015, at least 968 incidents of sexual assault against minors, involving 1,790 victims, were reported by Chinese media, according to the activist group Girls' Protection Foundation.
In May, the central government launched a campaign to raise awareness about bullying.
Under the program, which ends in December, police and judicial staff are invited to schools to give lectures. Education institutions have also been asked to improve measures to prevent bullying, and to establish a system to deal with emergencies.