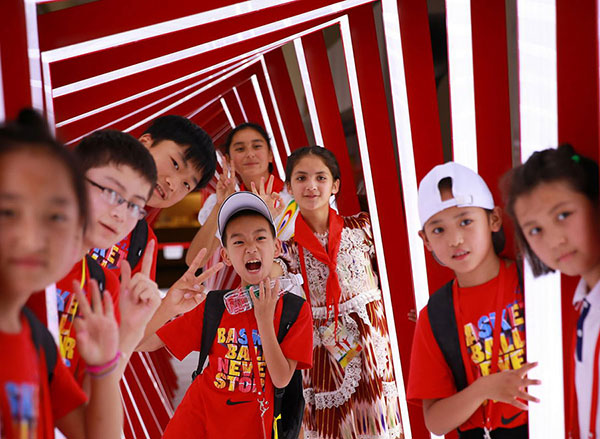 Children of migrant workers pose for a photo during their trip to Peking University on Friday. [Photo by Zou Hong/China Daily] More photos: Left-behind children enjoy free tour of Beijing
She hadn't seen her dad for almost a year, so Fang Yuan, 14, now 163 centimeters tall, twitched slightly and smiled uneasily when her father, a construction worker, walked up and tried to hold her in his arms. The hug, with the daughter's arms barely raised, lasted for about two seconds.
"Since 2004, when Dad first left me for work, I only asked him once, 'Please don't go'," Fang said. "But I don't remember how he responded."
Fang is one of China's 61 million left-behind children, whose parents left them for jobs that paid better, usually far away from their hometowns.
Each summer, they face a dilemma: whether to stay in their village or leave to be with their parents in the city.
To stay means that, since teachers are on summer break, usually only the children's grandparents can watch over them, which some cannot do well. But to leave means wandering alone in a threatening metropolitan jungle while their parents work.
Luckily for Fang, this summer she had another option.
She was one of 217 children with similar backgrounds-100 from Daqing, Heilongjiang province; 92 from Shanxi province; and 25 from the Xinjiang Uygur autonomous region-who were handpicked by local governments to tour Beijing for a week, with all expenses paid.
The All-China Federation of Trade Unions, which organized and sponsored the trip, believes that the experience will give the children a chance to see the world outside their home. It also hopes the trip will inspire them to study harder to improve their chances of earning a good living by doing well on the college entrance examination, which for many children from underprivileged families is the only way up.
During the trip, which ended over the weekend, the children watched the raising of the national flag at Tian'anmen Square, a great honor in China. They also walked inside the Bird's Nest stadium, climbed the Great Wall and toured Peking University.
In China, there are at least 277 million migrant workers like Fang Yuan's father, according to data released last year by the National Bureau of Statistics.
Her father, Fang Xiuer, 47, has fitted and secured steel bars and mesh at construction sites around China for more than three decades. He now works in Beijing, so father and daughter saw each other during the trip.
Fang Yuan was selected by the local federation in Shanxi, where the company that has employed her father for a decade is based.
Fang Xiu'er, originally a resident of a village about 100 kilometers from Fuzhou, Fujian province, left behind his wife and daughter 12 years ago to seek work in bigger cities like Tianjin and Beijing.
Each month, he makes from 6,000 to 8,000 yuan ($900 to $1,200). His wife, who washes dishes at a restaurant in Fuzhou, brings in no more than 2,000 yuan each month. They bought Fang a big-screen smartphone to stay in touch with them.
Almost all the 217 children in the summer camp share a similar experience.
Xia Tian, a team leader from the trade federation's Daqing office, said many of the children in her 100 member group had never left their villages or counties before the trip. Xia and her colleagues set strict standards to make sure that every child selected was in genuine need of help.
"If there is just one kid out of my 100 team mates who got really inspired and made up their mind to study harder and make their way to Beijing, I believe all we've done will be worth it," said Xia.
Ayigulzeli Turson, 11, who is from Xinjiang, played a hand-clapping game with her friend while visiting Peking University on Friday. She translated the Uygur jingle that accompanied the game into Mandarin and taught it to her playmates. "I want to come to Beijing. I will study hard." She said. "I will make it to Peking University or Tsinghua University."