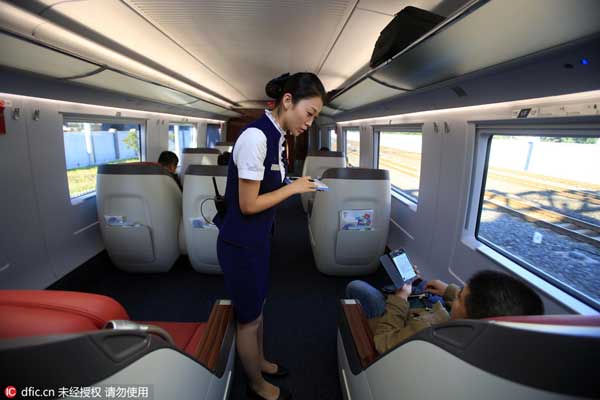 A passenger uses mobile internet services on a high-speed train in this 2013 file photo. [Photo/IC]
WiFi services are expected to be offered on China's high-speed trains in three to five years.
It was revealed that China Railway Rolling Stock Corporation (CRRC) is testing WiFi services on high-speed trains at the Modern Railways 2016, a railway technology and equipment expo held in Beijing from June 20 to 22.
Such WiFi services offer an integrated wireless platform for both passengers and the train crew, said a staff worker of CRRC.
WiFi services on high-speed trains are rather different from what is used in homes and offices.
The stability of the internet connection speed in tunnels and interference of mobile and static signals are two major obstacles to overcome in improving WiFi services on high-speed trains.
Last year, three Chinese airlines were approved to provide WiFi services on their flights.