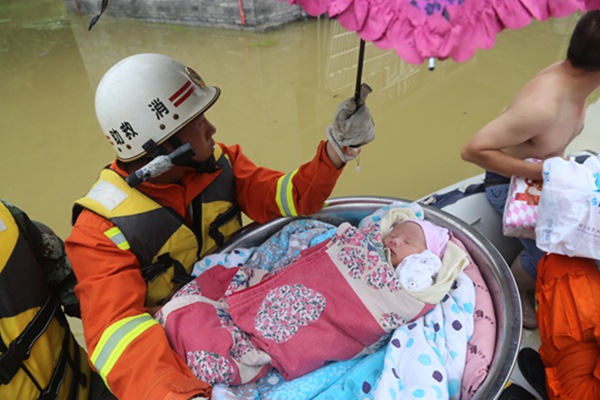 A rescuer escorts a sleeping 10-day-old infant to safety on Tuesday in Xiaba, a village in Guizhou province that has been left submerged by consecutive heavy downpours. KE YOUCHUAN/CHINA DAILY
Rainstorms are expected across region along the Yangtze River
Thousands of homes were flooded in Poyang county, Jiangxi province, late on Monday after Bintian Reservoir overflowed as torrential rain continued to wreak havoc in South China.
The overflow forced the relocation of 5,600 residents in three villages late on Monday as the floods submerged homes, roads and farmlands, the State Flood Control and Drought Relief Headquarters said in a news statement on Tuesday. No casualties were reported.
The Jiangxi provincial government said on Tuesday that the water is slowly receding. There are still more than 4,000 people mobilized in flood prevention efforts. It added that it could take at least three days to repair the riverbanks.
Hu Guoyi, a villager from Jianyang who was forced to relocate, said the banks overflowed in a matter of hours.
"The water level rose quickly to more than 2 meters and soon submerged the gate of our home," he told China News Service.
After the floods, he and his wife took their two children to stay with relatives and then returned to the village to look after their home.
In Hunan province, a flooded river in Longshan county forced about 18,500 residents to leave an ancient township.
Torrential rains and floods have affected 213,800 residents and forced the relocation of 32,800 people in the province, according to provincial authorities.