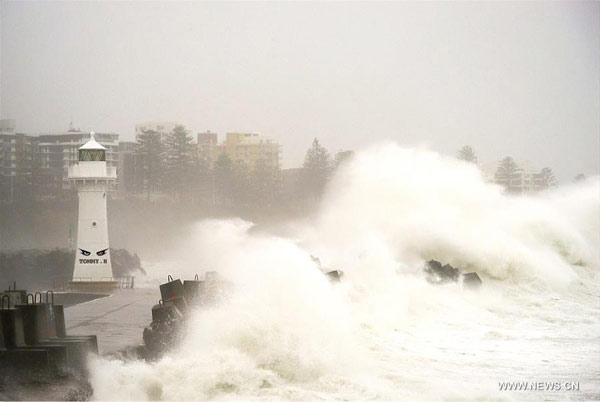 Photo taken on June 5, 2016 shows a harbor in Wollongong experiencing damaging winds with rainfall in New South Wales, Australia. [Photo/Xinhua]
Melbourne - Australia's Tasmania and Victoria have been issued major flood warnings as the storms that battered Queensland and New South Wales over the weekend are moving south.
The Bureau of Meteorology (BoM) issued warnings on Monday of flash flooding risks on Tasmania's central north, northeast, east, southeast and northwest coast's as well as the state's central plateau and midlands.
Emergency services say that Launceston, Tasmania's second biggest city, is facing its most significant flood threat since the 1929 Tasmanian floods which killed 22 people.
Some residents of St Leonards, only a few kms southeast of Launceston, were evacuated from their homes early on Monday morning with more expected to follow as the rainfall continues.
Mhairi Revie, a spokesperson for the State Emergency Service (SES), said some rivers in Australia's southernmost state will reach unparalleled levels.
"Levels in the North Esk (river) are potentially going to exceed the 1929 flood," she said.
Experts warned that the Mersey River which runs through Devonport, a town of 25,000 people in the central north of the state, is most at risk of major flooding as levels will continue to rise for the next 12 hours.
More than 100 roads across Tasmania are closed in order to prevent civilians from driving into potentially dangerous high waters.
The authorities in Victoria are also on high alert with heavy rain and flash flooding expected to hit East Gippsland.
"Stream rises are the main concern, not necessarily flooding with large volumes of rain in a small period of time," John Parker from Victoria's SES told the Nine Network on Monday.
East Gippsland is expecting between 50 and 100 millimeters of rain on Monday.
The low-pressure weather system wreaked havoc on coastal Queensland and New South Wales over the weekend, leaving homes destroyed and emergency services inundated with 9,000 calls in New South Wales alone.