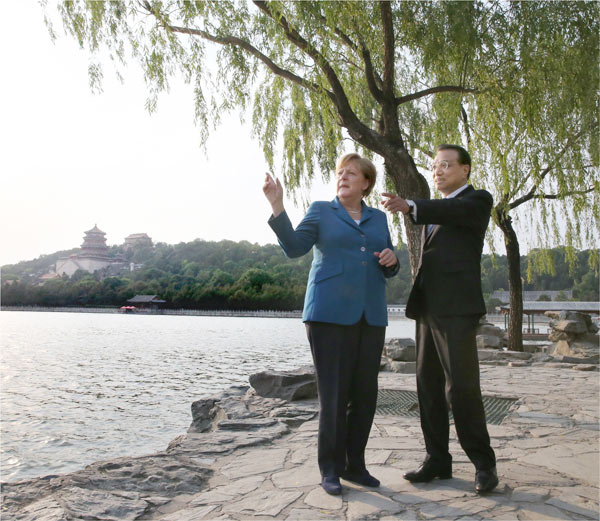 Premier Li Keqiang and German Chancellor Angela Merkel visit Kunming Lake at the Summer Palace in Beijing. WU ZHIYI / CHINA DAILY
Li receives Merkel at the start of her ninth visit to China since taking office
Against the backdrop of a glowing summer sunset in Beijing, Premier Li Keqiang received his visiting German counterpart Angela Merkel on Sunday at the Summer Palace.
It was Merkel's second visit to a World Heritage site in Beijing after she toured the Temple of Heaven in 2014. She is making her ninth trip to China since taking office.
Li welcomed the German chancellor at the Summer Palace's east gate before showing her around several ancient sites.
He later hosted a banquet for Merkel near the Summer Palace, where they also held an informal meeting.
Li said both countries are steadily implementing the guidelines of the third round of China-Germany government consultations in 2014.
China is willing to hold in-depth discussions with the European Union during the fourth round of the consultations, scheduled for Monday, the premier said.
Areas for discussion include linking the Made in China 2025 strategy with Germany's Industry 4.0 strategy, cooperation in third-party markets and smart manufacturing.
Industry 4.0, or the fourth industrial revolution, refers to the current trend of automation and data exchange in manufacturing technologies.
"China welcomes foreign investment from all countries, in particular Germany, and I hope China and Germany will strengthen communication and cooperation among G20 member states, dedicated to boosting global economic growth and maintaining world peace," the premier said.
Merkel said bilateral relations have developed smoothly and Germany will enhance exchanges and cooperation with China in various fields.
Li said: "This calls for innovative ways for deepening bilateral cooperation between China and Germany, expanding common interests, and building new momentum ... in bilateral relations. China will have in-depth discussions with Germany on cooperation in relevant fields during the fourth round of China-Germany governmental consultations."
Foreign Minister Wang Yi told his German counterpart Frank-Walter Steinmeier in Beijing that China hopes the EU can fulfill its promise to recognize China as a market economy.
Wang made the remarks at a bilateral meeting ahead of the fourth round of the intergovernmental consultation between the two countries.
"China appreciates that Germany has expressed its willingness several times to play a constructive role in improving the relationship between China and Europe," Wang said.
He stressed that Beijing hopes the EU can fulfill its obligations under Article 15 of the Accession Protocol of China's entry to the World Trade Organization in 2001. Article 15 specifies that the maximum time limit for China as a nonmarket economy should be 15 years.
Earlier on Sunday, Merkel received an honorary doctoral degree from Nanjing University before delivering a speech at the University of the Chinese Academy of Sciences in Beijing.
Chen Jun, president of Nanjing University, said, "In a complicated political and economic environment, Merkel devotes herself to resolving issues including legal dialogues, regional conflicts, climate change ... and makes a great contribution to bilateral relations."
In her speech, Merkel emphasized the importance of creating a free and open atmosphere for academic discussions.
By the end of last year, more than 36,000 Chinese students were studying at universities in Germany, and more than 7,500 Germans were studying in China.
Zhou Wa and Wang Xu contributed to this story.