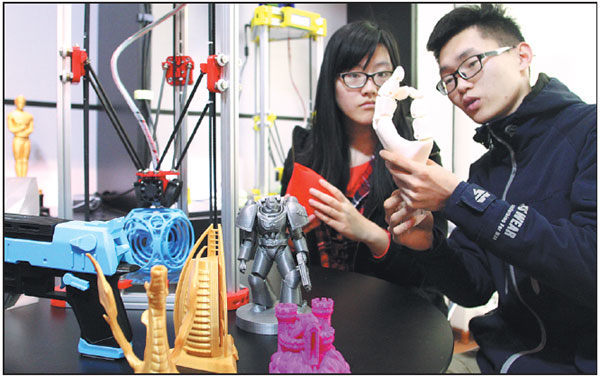 Two students from Harbin Engineering University work in their 3D printing workshop in Harbin. Su Qiang / For China Daily
Studies can be paused to give students chance to set up a business
Chinese college students now have a new option in addition to continuing their studies or getting an internship - starting their own company after suspending their schooling, something they can do without losing their status as a student.
And the effort to promote entrepreneurship and innovation has been popular on campus. In the past 12 months, more than 20 provinces, municipalities and autonomous regions have introduced such flexible educational systems. The length of time students can take away from their studies without losing their status as students can be as long as eight years.
In addition, under similar flexible initiatives, universities have also introduced the idea of coaching teams offering lessons featuring such experts as scientists, entrepreneurs and venture capital investors. They will be hired to offer insights and be evaluated on their performance.
Zhao Yizhen, an official in charge of higher education under the education authorities in the Guangxi Zhuang autonomous region, said students who temporarily dropped out of their studies previously could only maintain their student status for reasons such as sickness or financial hardship.
"A flexible education system is not something new," Zhao said. "For example, students at Guangxi University could extend their four-year-studies into eight years. However, the requirements for suspending schooling were very strict."
In May 2015, the Chinese government released a document setting out how college students should be better supported. The document said students should be able to suspend their schooling if they want to start a company. Guangxi just released its guidelines in response to that on May 6.
"This does not mean we encourage students to leave education and devote themselves to business," Zhao said. "We hope our students will think more creatively and be more entrepreneurial, dare to try and accept frustration if they fail. In this way, they will be more prepared."
Jiao Wen, 24, who had initially expected to graduate in July, will now finish his studies next year. He is busy developing a mobile application to help learner drivers and their instructors.
"Before the new guideline, I would not have been allowed to do this. Now, all I needed to do was apply," said Jiao, who is a student at Guangxi University. He said his business hit a bottleneck and needed his full attention.
Jiao got the idea for his business from his own experience of taking driving lessons. He thought it would save a lot of time if there was an application that allowed students, driving schools and teachers to communicate. He co-founded the company last year with a friend. "I didn't really know whether I would be good at operating my own business before I tried it," he said. "Starting your own business can help you accumulate successful experience, or the opposite."
Chu Zhaohui, a senior researcher at the National Institute of Education Sciences, said the important part of the initiative is allowing students to cultivate creative and entrepreneurial thinking.
"The whole society needs to participate in this trend," Chu said. "A new performance evaluation system needs to be introduced to encourage creative thinking in different agencies and institutions."