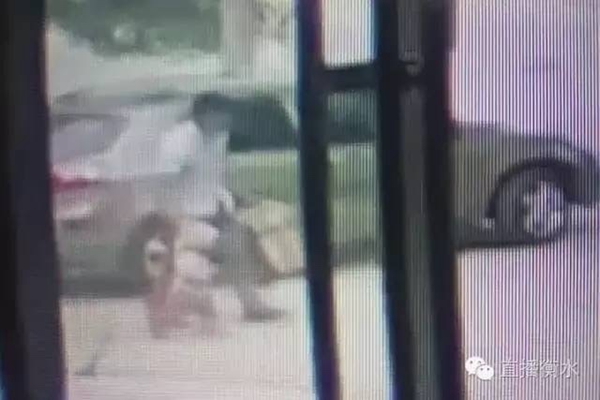 A two-year-old toddler was successfully rescued from a suspected trafficker after the platform reported her missing and received a witness's report. [Photo from Sina Weibo]
A toddler was successfully rescued from a suspected trafficker after the news of her disappearance was released by a missing child broadcasting platform days after its launch online.
The Emergency Response System, launched by the Ministry of Public Security on May 11, is similar to Amber Alert, a system for emergency information broadcasts about missing children in the United States. It also is the way that authorized government information is released on missing children.
At 2 pm on May 13, a two-year-old girl went missing near Hengshui railway station in North China's Hebei province. A surveillance video shows that she was brought away by a strange man with a square face and closely cropped hair.
The photo of the girl, the still image of the video showing the suspect and the police's contact number among other information were published on the platform.
"A witness called the police when he saw the information on the platform", said Chen Shiqu, deputy inspector with the MPS's criminal investigation bureau.
Based on the report and other clues, the police caught the suspect, surnamed Ma, and rescued the child in Longhu township, Zhengzhou of Central China's Henan province 32 hours after she went missing.
The platform has attracted more than 170,000 followers on its official account of Sina Weibo, China's version of Twitter.
The information about missing children comes from more than 5,000 anti-trafficking police officers across the country.
It also sends messages to people within close range of the missing children on their phones.
"Previously, the police would hand out thousands of printed wanted leaflets if they failed to find any valuable clues when a child goes missing", he said, "but it is not efficient."
The platform solves this problem. Taking the location the child went missing from as the center, the push messages will be sent to people within a 100-kilometer radius within an hour of the missing report, 200 kilometers within two hours, 300 kilometers within three hours and 500 kilometers beyond three hours.
"The platform uses the internet to motivate people to collect and report clues and help combat child-trafficking," said Chen.