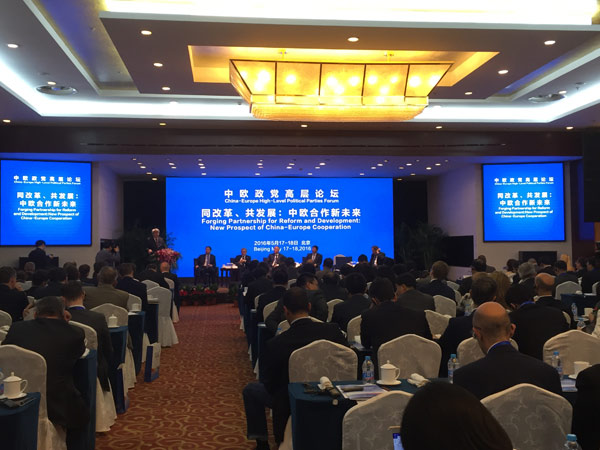 The 5th China-Europe High-Level Political Parties Forum is being held in Beijing from May 17 to 18. Photo by Chen Yingqun
China and Europe's political leaders are in Beijing discussing about future cooperation potential, especially in the green economy and under China's Belt and Road Initiative.
Themed Forging Partnership for Reform and Development: New Prospect of China-Europe Cooperation, the 5th China-Europe High-Level Political Parties Forum started in Beijing on Tuesday and has welcomed more than 80 European leaders representing more than 30 political parties from 24 European countries, regional European political parties and political party groups in the European Parliament and theirs diplomats in China.
Song Tao,minister of the International Department, Central Committee of CPC, said China and Europe are both looking for development paths that fit for themselves.
China's five concepts of development during the 13th Five-Year Plan(2016-2020) - innovation, coordination, green development, opening up, and sharing - and China's Belt and Road Initiative, greatly match with the development strategies of European Union countries. The green development and open development have especially provided many opportunities for future China-EU cooperation.
"China and Europe are both looking for development paths that fit for them, and both face various challenges and pressures both at home and overseas. Our mutual interest is increasing, and it is more essential for both to work together," he said at the opening ceremony at Tuesday.
He said that communication between political parties plays an important role in the China-Europe relationship. He hoped that political leaders in China and Europe would attach great importance to communication, push forward practical cooperation, exchange experiences of management and also strengthen dialogue.
Song added that China has been European Union's second-largest trade partner for 12 straight years. The European Union side should perform their duties regulated in international treaties, and recognize China's market economy status with the interest of both sides as that will bring huge potential for bilateral trade and Europe's development. He hoped that European political parties will play a leading role in pushing forward the European Union to perform their duties regulated by the WTO on schedule.
Sergei Dmitrievich Stanishev, the leader of the Party of European Socialists, the second-largest party in the European Parliament, said that for certain period of time China put economic development first, but now it is more focus on seeking more sustainable development and is looking for more environmental-friendly policies. So there's a lot potential in cooperation in green industry.
Moreover, China's Belt and Road Initiative could be connected with Europe's 315 billion euro investment plan, as they are complementary with each other.
He said there are three areas that have the most potential: infrastructure building in transport sector, energy sector, and digital area.
The forum, initiated by the Communist Party of China, was first held in Beijing in 2010, and is a high-level, multilateral and strategic dialogue platform. It aims to push forward China and Europe to build partnership of "peace, growth, reform and civilization", and strengthen both sides' communication and connectivity.