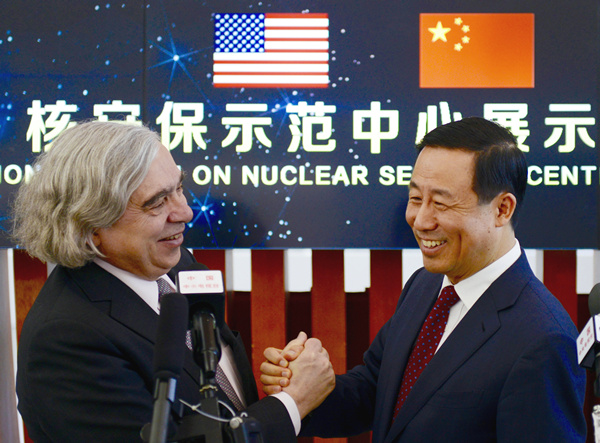 Xu Dazhe, head of the China Atomic Energy Authority, greets Ernest Moniz, US secretary of energy, at a ceremony in Beijing on Friday. Wei Xiaohao / China Daily
The Center of Excellence on Nuclear Security, a joint effort by China and the United States, started operation on Friday and will soon begin to train technical and security professionals from China and abroad.
The center was built by the China Atomic Energy Authority and the US Department of Energy. It is considered one of the world's best training and exchange programs for nuclear security personnel in terms of size, equipment and technological capability, according to a statement by the Chinese agency.
Construction of the center, originally proposed in April 2010 by then-President Hu Jintao during the Washington Nuclear Security Summit, began in October 2013. China is responsible for the facility's management and operations, while the US provides equipment to be used in technical analysis, tests and personnel training.
Located in the Changyang Science and Technology Park in the southwestern outskirts of Beijing, the center will conduct international exchanges and cooperation on nuclear security, nuclear material control and export management.
It will also provide services such as training and tests, the China Atomic Energy Authority said.
The center is capable of training about 2,000 nuclear security personnel each year. The trainees will mainly be from China and other countries in Asia and the Pacific region.
China, which began building its first nuclear power station in 1985, has 30 reactors in operation with an installed capacity of 28.3 gigawatts. Twenty-four more are under construction, according to the authority.
Liu Yongde, spokesman for the CAEA, said that China and the US have been cooperating on nuclear security since the 1980s.
"In addition to the nuclear security center, the collaboration has also resulted in the better protection and management of radioactive sources used by Chinese companies and improved law enforcement on smuggling of radioactive materials," he said.
Xu Dazhe, head of the CAEA, said China is very serious about making good use of nuclear power, adding that the Chinese government is also committed to improving nuclear security.