One Belt, One Road Initiative provides new opportunities for Muslim robe business multimedia-container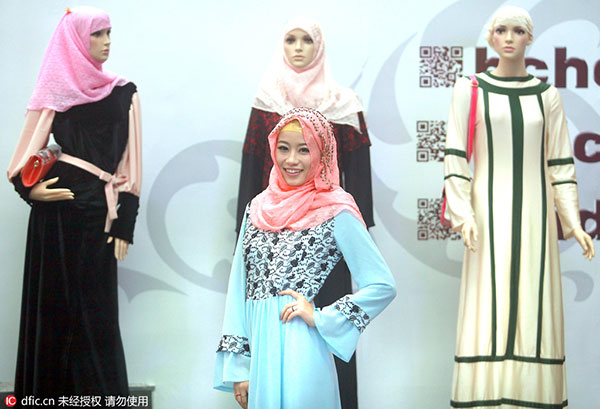 Chinese Muslim women display traditional dresses at a booth during the opening of the China-Arab States Expo held in Yinchuan, the capital of northwestern China's Ningxia Hui autonomous region, on Sept 15, 2013. [Photo/IC]
A 67-year-old Muslim entrepreneur in northwestern China's Ningxia Hui autonomous region is finding new opportunities for his family clothing business along the Silk Road economic belt.
Yang Faxiang started his company in the 1990s with a few dozen sewing machines, making ethnic costumes and clothing for Hui people. Later, as cross-cultural exchanges and trading increased between China and the Middle East, he found a welcoming foreign market for his products.
His company, Wuzhong Wantini Ethnic Clothing Co, established its first overseas store in Saudi Arabia in 2012.
"The store functions as a wholesale headquarters for the company in the Middle East since traders from other countries in the region go there to restock. It also helps us to brand our company, showing our designs for Muslim clothes," Yang said.
In 2015, the company's sales revenue reached 24 million yuan ($3.67 million), with 60 percent coming from foreign markets. Yang expects revenue to double this year.
"The One Belt, One Road Initiative will make the ties between China and the Middle East closer, which will benefit our business," he said. "President Xi Jinping visited three countries in the Middle East in January, which has given us strong encouragement."
Yang said he hopes Xi's visit will result in some preferential policies for Chinese businesses in the Middle East, where he has found visas to be costly, challenging to obtain because of his age and for short terms.
Financial services in the Middle East also are difficult for foreign businesses, so he hopes more banks will provide help for small business owners like him.
Competition among Chinese producers is fierce in the Middle East, Yang said.