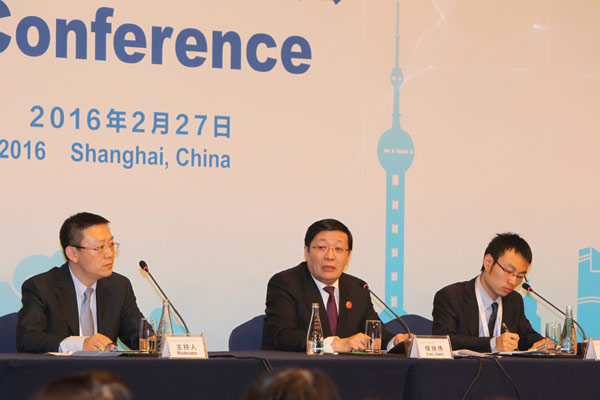 Lou Jiwei (Center), the finance minister of China, addresses a press conference at the G20 Finance Ministers and Central Bank Governors Meeting held in Shanghai on Saturday. [Photo by Gao Erqiang/China Daily]
Finance ministers and central bank governors of the world's 20 major economies pledged to refrain from competitive devaluation on Saturday, without committing to any specific actions.
"We reaffirm our previous exchange rate commitments, including that we will refrain from competitive devaluations and we will not target our exchange rates for competitive purposes," said the communiqué released at the end of the two-day meeting.
The communiqué said that "excess volatility and disorderly movements in exchange rates" can have adverse implications for economic and financial stability. G20 will "consult closely on exchange markets".
The general statement against competitive devaluation is a reassurance to the global market that major economies will not engage in a "currency war" to boost exports and growth due to the dismal worldwide growth outlook.
However, it fell short of previous market expectations, which speculated that these major economies might take joint action to intervene in the foreign exchange market for revaluation of the renminbi or other major currencies.
G20 vowed to carefully calibrate and clearly communicate their macroeconomic and structural policy actions to reduce policy uncertainty, minimize negative spillovers and promote transparency.