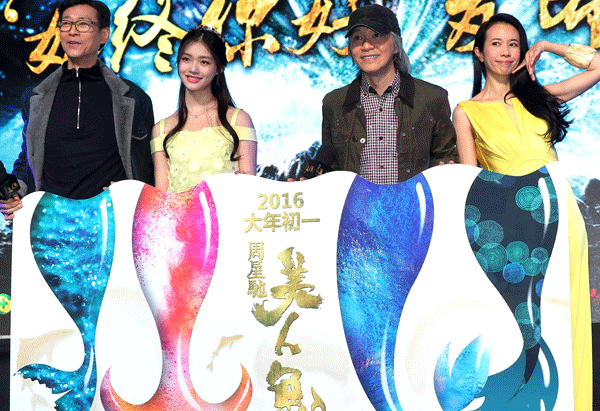 Hong Kong director and comedian Stephen Chow (second from right) attends a reception for the releaseof the theme music for The Mermaid, a sci-fi comedy, on January 18 in Beijing. [Photo by JiangDong/China Daily]
BEIJING- Stephen Chow's "The Mermaid," a comic love story and environmental parable, became the first Chinese movie to pass the 3 billion yuan ($460 million) ticket sales mark on late Friday, according to movie consulting firm EntGroup.
The movie has been riding ticket sales boom since its release on Feb 8, beating almost any record at the second largest film market, including the highest-grosser, previously held by another hit "Monster Hunt."
The story centers on a property tycoon, who bought a marine reserve and wanted to develop it. A beautiful mermaid was chosen to seduce and kill the tycoon, until she fell in love with him.
Considering that it only took "The Mermaid" 12 days to overtake "Monster Hunt," many Chinese movie industry watchers are expecting the movie to cause a bigger splash.
A report from EntGroup quoted Xiao Fei, founder of movie firm UP Pictures, as saying that many people thought it was impossible for China to have a film topping 5 billion yuan three years ago. "Now, everyone believes this mark is not far away anymore."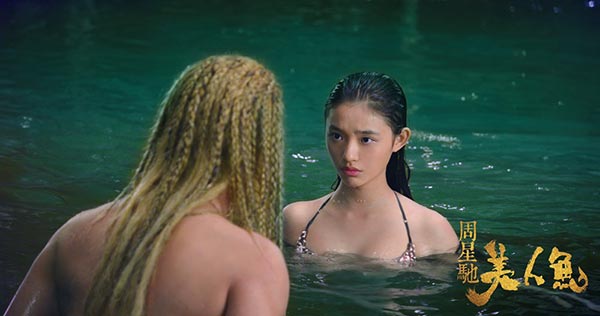 A scene from The Mermaid. [Photo/IC]