Many young people in China say that social networking apps help them keep in touch with their family, but some block their parents from their posts in order to maintain some distance.
"I don't want my parents to see all my ups and downs at school, which may make them worry."
Fu Huiyang, art student in Dalian, Liaoning province
"My parents are my friends on the messaging app WeChat, but I block them on my Moments function, which is my own space beyond their control."
Zang Wei, accountant in Shenyang, Liaoning province
"As a single woman in my late 20s, my parents' friend requests are blocked. They will keep asking about my personal life."

Lin Xuejun, online vendor in Putian, Fujian province
"My parents and many relatives are all my friends on WeChat. Living away from home, the Internet brings us closer together."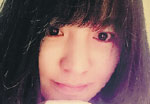 Ji Xiu, undergraduate in Harbin, Heilongjiang province