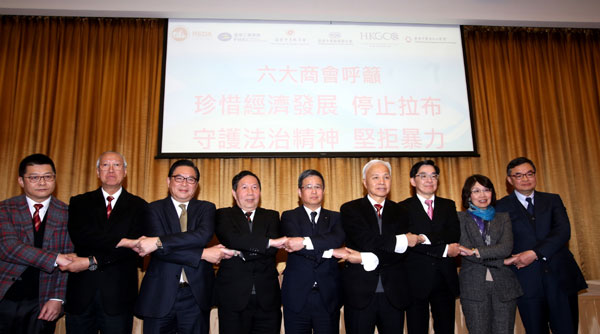 Representatives of six major business chambers urge the public to voice against filibuster in the legislature and violent acts at a press conference at the building of the Chinese General Chamber of Commerce on Feb 19, 2016. [Parker Zheng/China Daily]


Six major business chambers in Hong Kong  today jointly expressed their concern on violence on Hong Kong's streets and filibustering in the city's legislature.

They urged local people to stand out and speak up to say 'no' to those who are "getting Hong Kong stuck" and will destroy Hong Kong's competitiveness.

The six business chambers are: the Chinese General Chamber of Commerce, the Chinese Manufacturers' Association of Hong Kong, Hong Kong General Chamber of Commerce, Federation of Hong Kong industries, the Real Estate Developers Association of Hong Kong and the Hong Kong Chinese importers' and Exporters' Association.

Vice-chairwoman of the Chinese General Chamber of Commerce Betty Yuen said an accumulation of incidents, from the 79-day illegal "Occupy" movement in 2014 to the recent Mong Kok riot, have greatly hurt Hong Kong's international image. Investors, both local and from overseas, would reconsider their investment plan in Hong Kong for fear of unpredictable social movements.

Meanwhile, filibustering in the Legislative Council (LegCo) has halted Hong Kong's infrastructure building process, she cautioned. As competition from regional countries and regions is growing fiercer, Hong Kong may lose its advantages in the short term, she warned.

According to LegCo statistics, out of 72 proposed public work projects submitted to LegCo in the current legislative year starting in April 2015, only two have been passed.