Cultural differences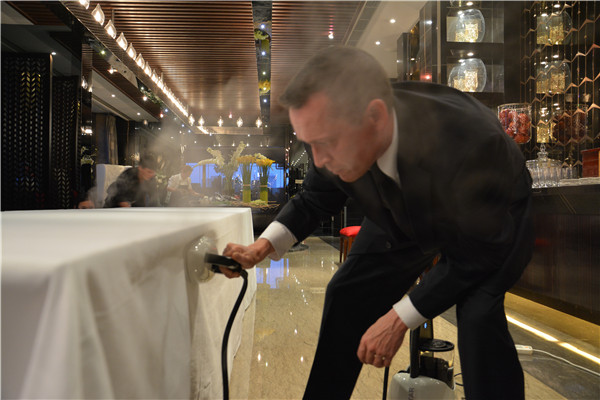 Christopher Noble, director of training, irons a tablecloth during a lesson about laying tables. 
Christopher Noble, an Ohioan who is director of training at the Chengdu school, graduated from the academy in the Netherlands in 2012. He said China was one of the first civilizations in history to have butlers, called guanjia, or "housekeeper".
"What we are reintroducing here already existed for hundreds of years," he said.
But the cultural differences between the West and China constitute a major obstacle for the instructors.
Noble, who worked as a consultant and a trainer for salespeople in the expensive residential community where the club is located before he joined the academy, has noticed that there are many differences between serving a Western employer and a Chinese one.
"Chinese businessmen and businesswomen tend to hold their household staff at arm's length. In the West, they give the butlers trust and the butlers are in the inner circle. Butlers sometimes even know more about their masters than the other family members do," he said. "I should know everything about you, and your personal life, not because I am nosy, because the knowledge can help me better serve you."
Although the Chengdu academy instructs trainees in Western standards, most of the students have to adapt to the practical circumstances in their future Chinese principals' homes.
Noble said it is unfortunate that servants are looked down upon in traditional Chinese culture: "It's a career, and there should be mutual respect between the butler and the employer."
Tang, the public relations manager, is optimistic that the relationship between butlers and employers is likely to improve gradually, as China becomes more open to other cultures.
"That the TV series Downton Abbey is popular on the Internet with Chinese audiences, especially the young who are fluent in English, proves that there is a lot of space for British-style butler services among Chinese employers, and their attitudes to servants will change gradually," said Tang.