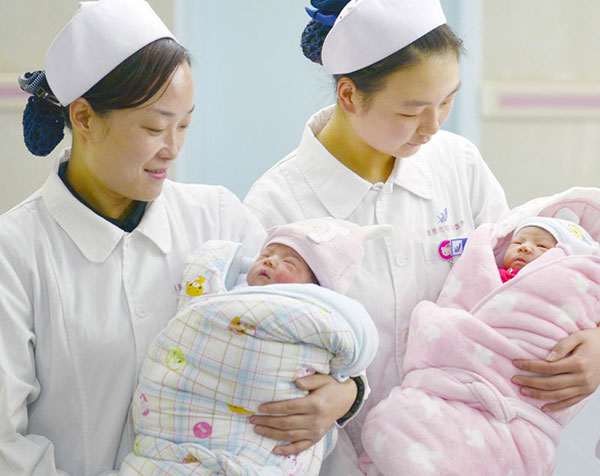 Obstetric nurses in the Central Hospital of Enshi, Hubei province, take care of newborns at the hospital. [Li Yuanyuan / for China Daily]
XI'AN - China's introduction of the two-child policy this year has caused worry that the change will further aggravate a current shortage of pediatricians.
The number of pediatricians in China dropped from 105,000 to around 100,000 within five years, according to China's public health statistical yearbook in 2015. On average, there are only 43 doctors per 100,000 children.
Wang Baoxi, a pediatrician with the Shaanxi branch of Chinese Medical Doctor Association, told Xinhua that situation was even worse in smaller cities and counties. In Weinan city, which is about 70 kilometers away from Shaanxi's capital Xi'an, they only had 17 doctors to care for 100,000 children.
The Lingnan branch of No 3 hospital affiliated with Sun Yat-sen University posted a notice telling people emergency treatment services in the pediatric department were canceled due to lack of doctors.
"Since the department was established in 2011, we have employed eight doctors. Four left in the following years," said Shan Yutao, who works in the hospital's medical management office.
In 2014, the number of patients in the hospital exceeded 63,000. The number increased 12 percent in 2015.
The shortage of pediatricians has made it difficult for parents.
In the Tangdu Hospital, one of the best hospitals in Xi'an, capital city of Northwest China's Shaanxi province, the waiting area for the pediatric department and surrounding corridor was swarming with hundreds of parents and sick children, with cries ringing out continuously.
The department, which receives more than 500 patients daily, has 36 doctors in total.
"In the mornings I receive more than 100 outpatients," said Wang Baoxi. He said such high demand means he can only spend only a few minutes with each patient.
In Xi'an Central Hospital there are 16 pediatricians, among whom only three are senior doctors.
"We have lowered our standard, but still we don't have enough pediatricians," said Luo Zhijuan, director of the pediatric department.
Statistics by the health and family planning commission of Shaanxi showed that among all the pediatricians only less than one third are university graduates, and another one third are graduates from junior colleges.
Low salary, high pressure and high risk are the main causes behind people's reluctance to become pediatricians, said Luo.
Doctor Fu Rong told Xinhua she works treating outpatients two days per week, does group consultations for two days and visits the ward every day. "My working time a day is, on average, more than 10 hours," she said. Every four days she works a 24-hour shift.
Even when a child is given treatment conflict arises. Child patients are usually too young to give a precise description of their symptoms but parents have high expectations from the doctors.
"Conflicts are not rare," said Li Pei, a nurse with the Xi'an Central Hospital. "We always find ourselves facing anxious parents yelling at us."
However, pediatricians are not well-paid. "Pediatricians earn 30 percent less than other departments, because the department earns less income," said Xia Ling, another nurse.
In China, medicines and examinations are the primary source of income for a medical department and children are prescribed less medicine than adults. The dosage for 10 to 15 children equals that of roughly one adult.
A decrease of pediatric graduates has also fueled the shortage.
In 1998, the Ministry of Education abolished pediatric departments in universities.
Qian Xueming, a political adviser who attended the "two sessions", the meetings of the local legislature and political advisory body, in Southwest China's Guangxi Zhuang autonomous region, only knew five universities with pediatric departments. Most stopped accepting pediatric majors.
"Without timely measures, the situation will become worse," he said.
According to the National Health and Family Planning Commission, 90 million Chinese women are allowed to have a second child under the two-child policy, which took effect on Jan 1.
Qian submitted a proposal to the regional political advisory body this year calling for a "supply-side reform." They suggested free training programs for pediatric majors.
This was echoed by Wang Baoxi, who called for pediatric departments to be restored in medical universities.
An Haiyan, an official with the Shaanxi provincial health and family planning commission, suggested that more importance be attached to pediatric departments in hospitals, and pediatricians be given subsidy for their job.
She told Xinhua last month that the commission has passed a regulation requesting general hospitals have pediatric departments and at least five percent of the hospital beds be given to pediatric departments.