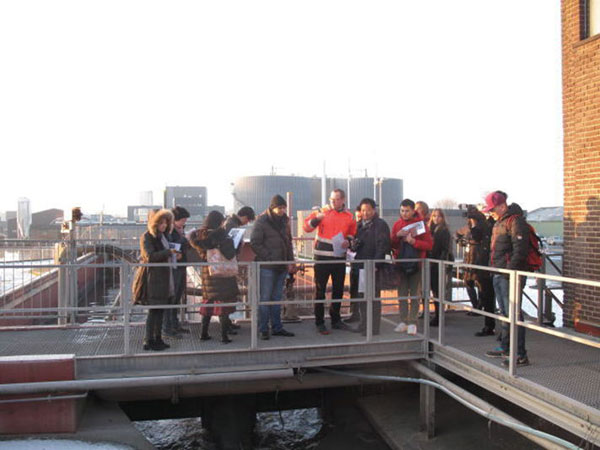 Members of the Chengdu media delegation visit the Horsens Central Wastewater Treatment Plant in Denmark.[Photo by Huang Zhiling/chinadaily.com.cn]
Chengdu, capital of Southwest China's Sichuan province, embraced a single sister in 1981, but in the years that followed, it sprouted a large clan, adding 28 more. Its sister city relationships now include Horsens, the third largest city in Denmark.
Both place a premium on better service for the aged and environmental protection, and that has been the basis of a happy family.
The quality of Danish services for the aged is known worldwide. The VIA University College in Horsens which forged the sister-city ties with Chengdu in 2013 has cooperated with the Chinese city to seek ways for it to provide better service for its elderly residents.
Rikke Hjuler Mikkelsen, who is in charge of the international program at the college, told a recent media delegation from Chengdu the Danish encourage the elderly to live at home as long as possible.
Only when they cannot take care of themselves will they move to facilities for old people. That is similar to the concept of home-based care for the aged that is promoted in Chengdu.
When he participated in Denmark Week in Chengdu in September 2015, Peter Soerensen, mayor of Horsens, said Danish old people's homes are as simple as families, with service providers helping the residents feel at home. It is common for the residents to organize travel, eating and reading clubs in the homes, he said.
Mikkelsen said 10 doctors and nurses from the West China Hospital of Sichuan University would receive short-term training on service for the aged at the Danish college this summer.
She suggested Chengdu set up institutions in its communities where the aged can have access to meals, health care and nursing service for age-related diseases.
"So the senior citizens can stay part time in both communities and home," she said.
Soren Bo Westring Christensen, professor of social work at her college showed members of the Chengdu delegation the three Chinese characters "wind, sand and star" his student Karoline B. Gyhrs had penned. Gyhrs had studied Chinese for four years and visited Chengdu.
Showing his interest in the Chinese words, Christensen said he wants to visit Chengdu so that he can see how the aged live in traditional Chinese homes and villages.
Many Danish senior citizens feel lonely because their sons and daughters do not live with them, he said.
When the Chengdu delegation visited the Horsens Central Wastewater Treatment Plant last Friday, they learned wastewater from homes and businesses in the city of 80,000 people makes its way to the plant through a 1,100-kilometer pipeline. After 18 hours of treatment, water that meets the requirements for discharge is released into the sea.
The Danish wastewater treatment process is the same as that in Chengdu, which does a good job in treating its urban wastewater but is yet to adequately treat wastewater in the countryside, said Erling Nielsen, a manager at the Horsens Central Wastewater Treatment Plant.
He said his plant would share its wastewater treatment success story with Chengdu.
Forty-five years ago, Horsens had many small wastewater treatment plants but its wastewater treatment was unsatisfactory. Only after the small plants merged did the pipelines cover all parts of the city and achieve satisfactory treatment.