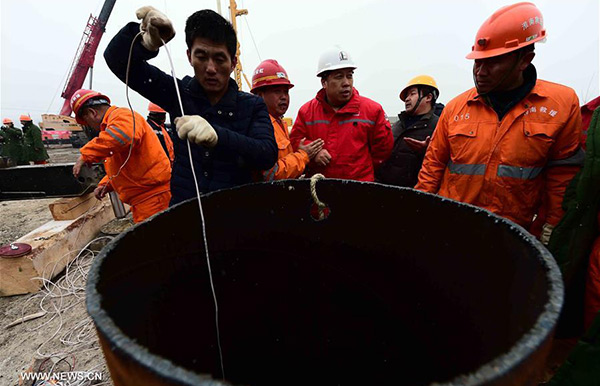 Rescuers work at a collapsed mine in Pingyi County, East China's Shandong Province, Jan. 6, 2016. Rescuers managed to dig more than 200 meters down into the shaft of the collapsed mine on Monday, but found no new survivors. [Photo/Xinhua]
Continuous cave-ins in which tons of rocks fell down twisted the pit shaft and blocked the tunnels that could lead rescuers to the trapped miners.
Some parts of the tunnels were destroyed repeatedly in the cave-ins after rescuers made it through.
The geologic structure of the mine is complicated as it is composed of four layers of different rocks, the majority of which are water-bearing stratum.
When rescuers tried to drill a hole through them, the water and the hard rock impeded much of their work.
Water inflow was so big that the rescue base was drowned. If the rescue work resulted in a big water inrush accident, the damage would be unimaginable.