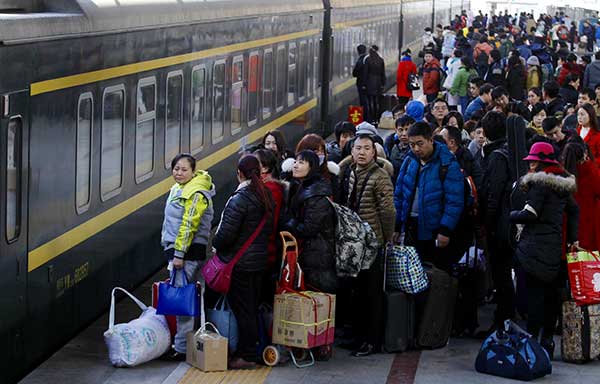 Passengers wait in line to catch trains home at the Beijing West Railway Station on Tuesday. Zhu Xingxin / China Daily
As Christmas is to Westerners, Chinese New Year - the first day of the first lunar month - is regarded as the most important festival in China.
It will prompt hundreds of millions of people to flock home to celebrate the Year of the Monkey, which begins on Feb 8.
Big data released by search engine Baidu reveals people flowing from big cities to smaller cities, and from the coast inland.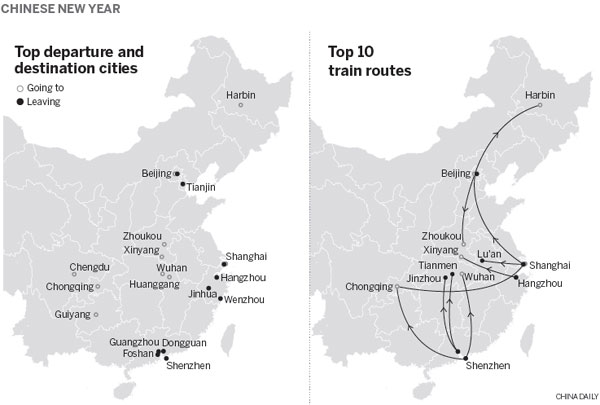 The busiest route is from Guangdong province's Shenzhen to the Southwest municipality of Chongqing. Beijing and Shanghai have the largest number of people leaving during this period.
"It is the only time of year I can spend quality time with my family," said Ding Ding, a 31-year-old civil servant in Beijing who goes back to her hometown in Hebei province every year for Spring Festival.
Ceremonies like the dragon dance and lion dance are becoming less popular, but big New Year's Eve dinners are still the most important part of the celebration.
"I once told my mother she doesn't have to prepare so many dishes," Ding said. "But she said it is not about the dinner, it is about having it with you."
Li Bo, a 26-year-old hairdresser in Beijing, said that his customers and co-workers all call him by his English name, Steven, which was given to him by his boss, who thinks having an English name is essential when working in the fashion industry.
"Nobody calls me Steven in my home village in Anhui province. They call me Li Bo or Bobo, my nickname. The seven-day holiday during the festival is the only time I am Li Bo, not Steven," he said.
"There's nothing wrong with being Steven. I like to be called Steven. But I am also Li Bo. I have to dress well and make a lot of money to live in Beijing, to be Steven, but I am always Li Bo."
"Sometimes I am ashamed about my village background, but I don't want to lose it. My home village is the only place that accepts me as I am. I can always go back."
Li said going back home during the festival is the only connection between him and his past. He is worried that his village is changing too fast and that he will eventually lose contact with his memories.
"That's why I cherish the time at home," he said.