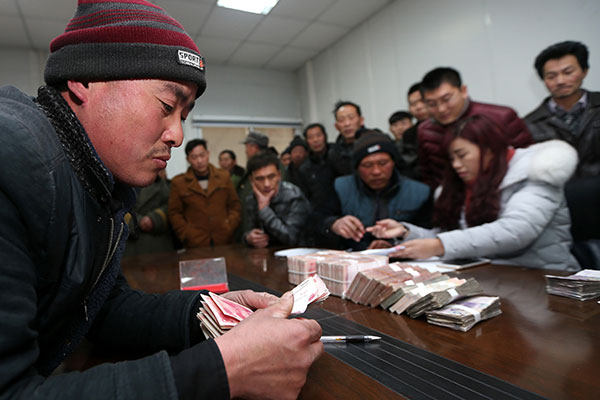 A rural migrant worker receives his wages with the help of local government authorities in Huaibei, Anhui province, on Friday. WAN SHANCHAO/CHINA DAILY 
A total of 4,815 complaints regarding the wages of migrant workers were referred to public security organs for further investigation in 2015, according to the Ministry of Human Resources and Social Security.
Most concerned the nonpayment of wages and enforced pay cuts.
However, the problem of wage defaults "has been contained" since refusing to pay employees was made a crime under a 2011 amendment to the Criminal Law, ministry spokesman Li Zhong said during a news conference on Friday.
According to the latest figures, there are more than 274 million migrant workers in China and many have fallen victim to wage defaults due to the nature of their work.
Zhou Litai, a lawyer specializing in the protection of migrant workers' rights, said that because many work in construction they are only paid upon completion of a project.
Reported cases of salary cuts and wage defaults involving migrant workers increased by 34 percent in the first three quarters of 2015 when compared to the same period the year previously, according to the All-China Federation of Trade Unions.
The ongoing economic downturn has also meant that such cases have spread from the construction industry, where they are traditionally most prevalent, to the manufacturing sector, it said.
Li of the Ministry of Human Resources and Social Security said local governments have been instructed to conduct a probe into migrant workers' wages, to ensure that they are all paid before returning to their hometowns for the Spring Festival early next month.
The General Office of the State Council said in a notice circulated on Tuesday that a guarantee system was to be introduced to prevent future problems concerning migrant workers' wages.
It said that by 2020 a well-managed operation must be in force, including requirements for closer supervision and harsher punishments, to put an end to the payment default issue.
This notice will serve as a crucial guideline when forming a long-term mechanism to tackle the problem, Li said.
"In the past it was difficult to verify who was ultimately responsible for payment in many cases because construction projects are often contracted out several times before work starts," he said.
"But according to the notice, those doing the contracting out must enhance their supervision of outsourced work and should be responsible for all payments. All migrant workers also have to sign contracts using their real names before work starts."
Any company that fails to pay wages in future will be put on a blacklist, to be published at regular intervals, Li added.
Arrears will also be closely investigated and contingency plans improved, especially where a large number of workers are involved.
"There should be some capital available for cases that cannot be solved in a short time. A joint conference system should also be established with ministries cooperating to deal with the problem," he said.