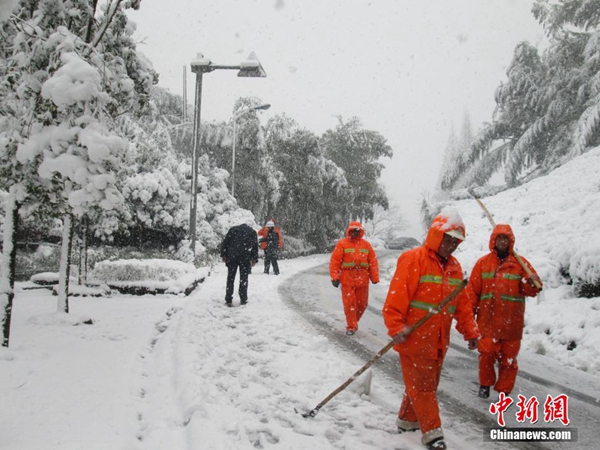 Workers clean snow-covered road in Hangzhou, East China's Zhejiang province, on Thursday. [Photo/chinanews.com]
30 cm snow in eastern province of Zhejiang
Blizzards are expected to affect China's eastern and central provinces from 20:00 Thursday to 20:00 Friday, in most parts of Zhejiang, southern Anhui, northern Jiangxi, southern Hubei and northern Hunan, with an accumulated snow depth of between 3 to 12 centimeters.
Some areas of western Zhejiang brave a snowfall of 20-25 mm, with a snowpack of between 10 to 20 centimeters.
Daming Mountain in Lin'an city even witnessed snow depth reaching 30 centimeters by 5 pm on Thursday after 31 hours of continuous snowfall, Qianjiang Evening News reported.
Fujian expected to see first snow
Due to the strongest cold wave in the last 10 years, adjoining province Fujian is forecast to see the first snow in the new year, with northeastern parts braving blizzard.
The provincial meteorological service also issued an anti-freezing emergency response of level Ⅲ, saying that the cold wave will cause serious damage in most regions of the province.
Warmest region not immune to cold snap
Not even the southernmost tropical island of Hainan will escape the cold front sweeping across most of China, according to the local meteorological authority.
Hainan Meteorological Observatory forecast that temperatures across the island province will drop by up to 13 degrees Celsius, and its surrounding waters will be battered by high winds on Jan 23.