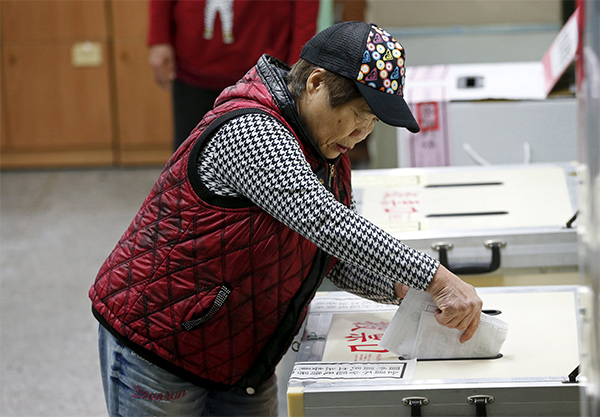 A voter casts her ballot at a polling station during elections in Taiwan, Jan 16, 2016. [Photo/CFP]


TAIPEI -- Voting stations in Taiwan opened on Saturday as the island looks to elect a new leader and legislature.

Polls started at 8:00 am and will close at 4 pm, with the official announcement of the results coming before 10:00 pm.

In a three-way race, Eric Chu of the Kuomintang (KMT), the island's ruling party since 2008, is competing for Taiwan's next leader with major opposition Democratic Progressive Party (DPP) chairwoman Tsai Ing-wen and the minority People First Party (PFP) chairman James Soong.

Chu, Tsai and Soong will cast ballot in New Taipei.

More than 15,000 polling stations opened across the island. About 18 million Taiwan residents are eligible to vote for the island's next leader and members of the legislature but it is hard to estimate how many voters will turn up, according to the election commission.

In 2012, about 74.38 percent of voters actually cast ballot.

The voting has proceeded smoothly as of 9:20 a.m.

The legislature election is being held simultaneously in Taiwan. For the legislature poll, 377 candidates are running for 79 directly elected regional seats and seats for ethnic minority groups, and 179 candidates from 18 parties, the most ever, are vying for 34 at-large seats. Taiwan's legislature has 113 seats.

Each eligible voter will cast two ballots in the legislature election -- one for a candidate representing the voter's district and the other for a political party to decide how many at-large seats each party can obtain.