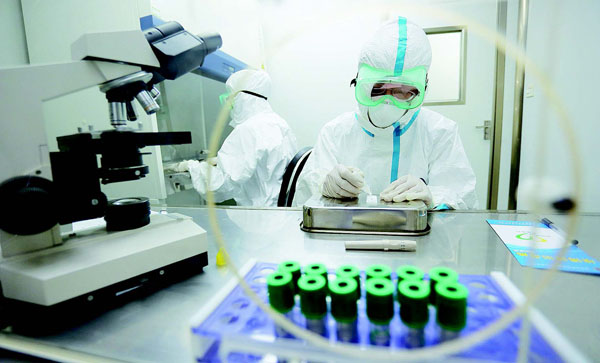 Quarantine workers at Qingdao airport in Shandong province test samples for the Ebola virus. [Xie Hao/For China Daily]
Chinese scientists have contributed to a new breakthrough in the fight against the Ebola virus after the deadly outbreak in West Africa in March 2014.
On Thursday in the scientific journal Cell, they reported new discoveries on how the virus enters human cells, offering a new direction for drug development.
The latest research found that the virus could remain in the semen of male survivors for up to nine months after infection.
"We have no idea when the next outbreak of Ebola will come," said Gao Fu, deputy director of the Chinese Center for Disease Control and Prevention and a researcher at the Institute of Microbiology affiliated to the Chinese Academy of Sciences.
"There are no specific clinically approved drugs against the virus, so we urgently need to be clear about the exact way in which it infects humans."
The drugs used in clinical applications are only effective in relieving the symptoms such as fever, headache and diarrhea.
Experiments are still underway, but the only success has been a vaccine developed by Canadian company MSD.
The virus can survive only inside the cell of a victim.
Qi Jianxun, co-first author of the paper, said the scientists' discovery of the way in which the virus enters human cells could help with drug development.
The concept of preventing a virus from entering a cell on a molecular level has been successful in developing drugs against a number of infectious diseases, for example Tamiflu against influenza viruses such as H1N1.
Wang Han and Song Jian, PhD candidates on Gao's team and co-first authors of the paper, said, "Our team started to study the Ebola virus in 2011. ... There are chances that we can develop a drug ahead of other teams in the world."