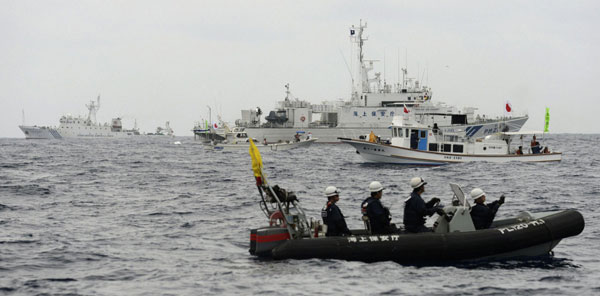 Chinese marine surveillance ship Haijian No. 46 (L) tries to approach towards Japanese fishing boats (2nd and 3rd from front) while a Japan Coast Guard boat sails (front), in the East China Sea, near Diaoyu islands, in this file photo taken by Kyodo May 26, 2013. [Photo/Agencies]
China issued a stern "word of advice" to Japan on Wednesday not to be provocative or escalate the situation around China's Diaoyu Islands.
"Otherwise, it will be at its own risk," Foreign Ministry spokesman Hong Lei said at a daily news conference in Beijing.
Japan's chief cabinet secretary Yoshihide Suga told a Tuesday press conference in the Japanese capital that Tokyo has told Beijing that any foreign naval vessel that enters "Japanese waters" for reasons other than "innocent passage" will be told to leave by a Japanese naval patrol, Reuters reported.
In response, Hong said China has every right to conduct regular navigation and patrol activities within the territorial waters of the Diaoyu Islands.
"We urge Japan not to be provocative in activities that escalate the situation," Hong said.