As a little girl, Buni Wangxi was frail and often sick. Peking Opera was both her route to health and success.
Now 11, Buni has won five consecutive first prizes at the National Opera Cup, and this year was admitted as the No 1 candidate to the middle school affiliated to the National Academy of Chinese Theater Arts, two years ahead of her peers.
It all started seven years ago, when Buni's mother registered the girl for opera training as a way to strengthen her weakened body.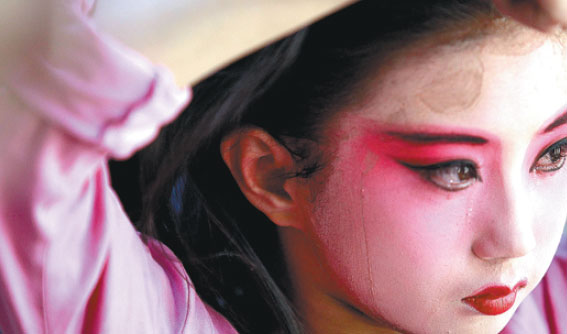 Opera performer Buni Wangxi applies makeup before a performance. Zhu Xingxin / China Daily
After just a few days of class, Buni fell in love with the traditional Chinese art form and decided to stick with it.
While other children played, Buni practiced somersaults. While other children sang pop tunes, Buni practiced breathing and pronunciation in the Peking Opera style.
At her primary school, some of her fellow students didn't understand her love of the opera and mocked her for "singing in a strange voice". This made her sad, but she persisted. As she trained, and improved, her older sister became a fan, and they loved Peking Opera together.
Buni, who is of the Manchu ethnic group, has always been the first to classes and rehearsals. She practiced her vocal training so she could hold out a note for three seconds, then five seconds, longer than the other children.
"Few are better than me, but I will learn from those who are better than me," she said.
Her mother Buni Yilan runs the Chunhui Zixi Children's Peking Opera Theater to promote the traditional art form. There are hardships running a school for children with an interest in the opera, and "a lack of funds and teachers constrain the development of Peking Opera among children and teenagers", she said.
However, she enjoys the fruits of her efforts in running the school, and said the school has cultivated many talented students, including some who may become professional performers in the future.
Her daughter, who has won the annual National Opera Cup hosted by the Beijing Education Commission and the National Academy of Chinese Theater Arts since 2010, may be among them.
"I have to thank my mother for introducing me into the interesting art that will be my lifelong pursuit," she said.
huyongqi@chinadaily.com.cn
(China Daily 11/09/2015 page7)