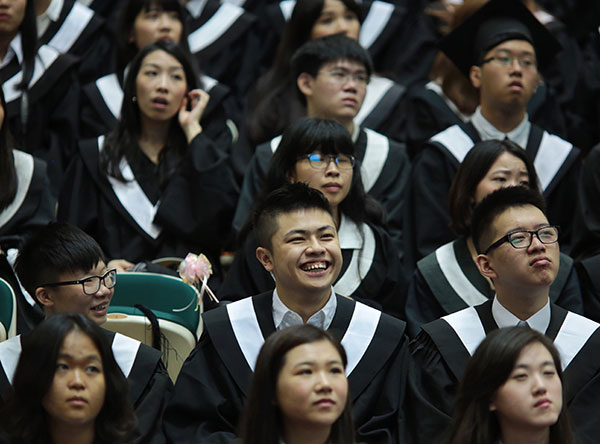 The first group of mainland students attend their graduation ceremony at the Tamkang University in Taiwan. [Photo/Xinhua]
The number of mainland students studying at Taiwan universities and Taiwan residents studying on the mainland has made a sizable leap in just a few years.
Enrollments have jumped in the five years since Taiwan universities were officially allowed to recruit mainland students, even though recruitment is only open to those from eight cities and provinces - Beijing, Shanghai, Guangdong, Fujian, Zhejiang, Jiangsu, Hubei and Liaoning.
In 2011, 1,905 students from the mainland applied to study in Taiwan. Forty-one applied for doctoral programs, 295 for master's degrees and the rest for undergraduate courses, according to the University Entrance Committee for
Mainland Chinese Students, a Taiwan-based organization responsible for mainland students studying in Taiwan.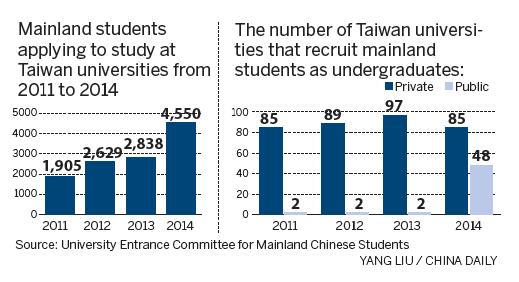 The figures climbed quickly by 2014 when 4,550 students, including nearly 4,000 undergraduates, applied as dozens of public Taiwan universities, including some of the best - National Taiwan University, National Tsing Hua University and National Chiao Tung University - started recruiting mainland undergraduates.
Before that, only a couple of public universities in Taiwan had opened their undergraduate courses to mainland students.
Wang Jiulong, 27, a doctoral student at Jinan University in Guangdong province, studied at National University of Kaohsiung in Taiwan as an exchange student in 2012.
Although he only spent half a year in Taiwan, he said he had a "very intensive and very fulfilling time".
"Before heading to Taiwan, I had lots of curiosity and imagination about it," Wang said.
"It's a place with a beautiful environment, polite residents, professional teachers and friendly classmates, all of which made it easy for me to integrate and be part of them during that semester."
Taiwan student interest in studying on the mainland is equally robust. In 2011, there were 928 Taiwan students studying on the mainland.The number nearly tripled to 2,734 by 2014, China News Service reported.
By 2013, 9,310 Taiwan students had studied on the mainland since the mainland agreed to open its schools to Taiwan residents in 1985, the report said.