The Guangdong government is planning legislation requiring employers to offer paid leaves to female employees who suffer painful menstrual periods, raising questions of whether such a move would be reasonable or practical.
The province's legislative affairs office posted a proposed regulation on labor protection for female employees on its website on Tuesday, and is soliciting public opinion until Dec 3.
Under the regulation, an employer would be required to give a one-day paid leave to a female employee during her menstrual period if she has a medical certificate, valid within six months, showing that she is incapable of working because of serious pains during her periods.
As labor costs continue to rise, employers complain that the regulation, if approved, will impose a heavier burden on them.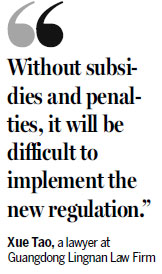 "It shows concern for female employees. But it's more reasonable to make it a sick leave or a day off compensating for overtime work than to be a paid leave," said the chief executive of an e-commerce company based in Guangzhou who wanted to be identified only by his surname, Dong.
"If the regulation is put into practice, the government should give subsidies or tax reductions to companies whose female employees make up a high proportion of the staff," he said.
Early in 1993, the central government, the national trade union organization and the national women's federation jointly created a regulation on health services for female employees requiring employers to permit a leave of one or two days for those who suffer painful or excessive menstruation.
It would not violate the old regulation if an employer were to allow a sick leave with deduction in pay in such a situation, but the proposed regulation in Guangdong stipulates that it must be a fully paid leave, according to Xue Tao of Guangdong Lingnan Law Firm.
"Without subsidies and penalties, it will be difficult to implement the new regulation," she said. "And the regulation may cause more gender discrimination, especially when the recently announced two-child policy is making employers recalculate the costs of hiring females."
Moreover, "it is difficult to conclude that a menstruating woman is unable to work when we can't measure the pain intensity with specific figures. Also, many female employees may be reluctant to reveal such private information," Xue said.
xujingxi@chinadaily.com.cn