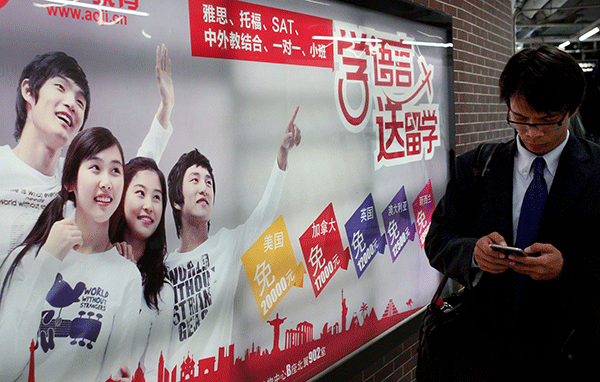 A man walks past an advertisement for an English-language tutorial agency in the Beijing subway. [Wang Zhuangfei/China Daily]
Educators say Chinese practice of memorizing questions must stop after test results canceled
Two recent incidents in which Chinese students' international test results have been withheld or canceled have pushed educators to advise those planning to study abroad to hone their language skills instead of just rote learning.
All the 357 Chinese students who took the Upper Level Secondary School Admission Test in Beijing and Shanghai on Sept 19 recently had their results canceled. The test, administered by the Secondary School Admission Test Board, is one of the basic requirements for candidates to enter secondary schools in the United States.
Before that, in late September, at least 100 Chinese students who had taken the International English Language Testing System in August and September received messages from the British Council, which administered the test, saying that their results would be "withheld permanently".
The authorities of the two tests said in their messages that the results couldn't reflect the students' real level of attainment, and therefore the results were withheld or canceled in order to ensure the validity and integrity of the tests.
Although SSATB and the British Council didn't elaborate on the reasons, tutors believed that a major cause may be Chinese students' practice of memorizing test answers in advance.
Gao Yanding, founder of Yanding US-China Education, a consulting company for Chinese students studying in the US, said it has long been the normal practice in China that students prepare for tests by memorizing questions from previous tests that are shared on the Internet by previous test takers.
"In Western countries, such practice is seen as strongly breaching test rules and challenging the integrity of tests, because it's unfair to those who don't have related resources," Gao said.
'Academically incapable'
"But in China, nobody thinks it's illegal or immoral because Chinese students also deploy this approach to prepare for gaokao, or the national college entrance exams."
But Gao said Chinese students should bear one thing in mind. "If they pass the tests and gain admission to their dream schools using such improper approaches, they won't be able to survive if they are academically incapable," he explained.
A report released in June by WholeRen Education, a US-based agency that provides services to Chinese students, showed about 8,000 Chinese students studying at schools in the US were expelled in 2014, 80 percent of whom were kicked out for cheating or poor academic performance.
Hu Min, president of New Channel International Education Group, an English-language tutorial agency in China, said that Chinese students turned to memorization for high scores to help them stand out in the fierce competition of gaining admission to a prestigious school abroad.
"Besides, some tutorial classes in China, in order to gain publicity and profit, also help students to spot test questions," he said. The problem was exacerbated, Hu said, because Chinese students applying to study abroad at primary or middle school levels could not reach a high enough standard in English at such a young age.
David Payne, vice-president and COO of the Higher Education Division at Educational Testing Service headquartered in the US, said early this year that ETS knew it was a common practice for students in China to share questions.
Ma Xiaoming, director of Beijing Language and Culture University's Pre-departure Training Department, said that the result-canceling incidents have acted as a warning.
"They should prepare international tests in a correct way - sharpening their language and learning skills, rather than spotting or memorizing questions," Ma said.
zhaoxinying@chinadaily.com.cn