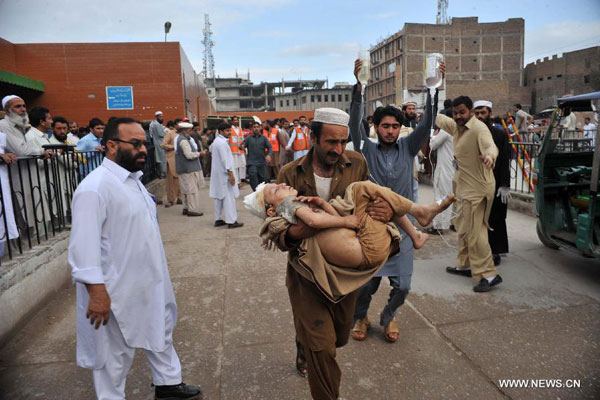 A man holds a boy injured in an earthquake at a hospital in northwest Pakistan's Peshawar, on Oct 26, 2015. [Photo/Xinhua]
BEIJING -- Chinese government will offer disaster relief to quake-hit Afghanistan and Pakistan based on their needs and China's Red Cross will provide emergency assistance in cash to the two countries, a foreign ministry spokesperson said on Tuesday.
A 7.5-magnitude earthquake hit the Hindu Kush mountains of Afghanistan on Monday afternoon, killing at least 300 people in Afghanistan and Pakistan and causing massive damages.
"The Chinese government will provide disaster relief to Afghanistan and Pakistan according to the conditions and their needs. China's Red Cross will also provide emergency assistance in cash to the two countries," Chinese Foreign Ministry spokesperson Lu Kang said at a daily press briefing.
Latest figure showed at least 1,620 people were injured in Monday's earthquake in Pakistan, and more than 2,500 houses were damaged there. The death toll in Afghanistan has risen to 83, according to local media reports.
China pays close attention to the disaster situation, and expresses deep condolences to the victims of the quake and sincere sympathies with the relatives of the deceased and the injured, Lu said.