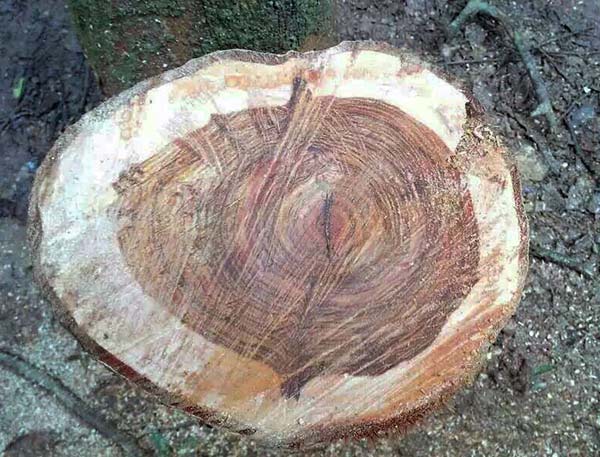 Cross section of the huanghuali tree branch. XISHUANGBANNA TROPICAL BOTANICAL GARDEN


Rare rosewood likely smuggled out by river
A branch of a rare rosewood tree, valued at more than 1 million yuan ($158,000), was cut off and stolen over the weekend from the Xishuangbanna Tropical Botanical Garden, a tourist attraction nestled on a river island near the small town of Menglun in Yunnan province.
The garden-a magnet for tourists, and botany researchers and enthusiasts-had never before been the target of wood poachers, authorities said.
The large branch from the 51-year-old huanghuali tree, also known as the fragrant rosewood, was removed on Sunday. The garden posted a photo of the tree and scolded the poacher as "a poop head" on it's official micro blog account.
Hu Huabin, deputy director of the garden known for its research and conservation of tropical plants, told ThePaper.cn that forest police and local officers were jointly investigating the theft.
Two garden patrolmen found broken tree branches and then discovered the sawn tree, Yang Tingting, a manager of the botanical garden, told ThePaper.cn.
Evidence pointed to the poachers moving the tree branch to the river bank that encircles the garden and smuggling it out by boat, indicating they were familiar with the garden's topography, Yan Zong, the garden's chief security officer, told Kunming Evening News.
The huanghuali tree (Dalbergia odorifera) is native to Hainan province. In 1964, six trees from Hainan were cultivated at the garden, the first of the species to live outside the natural habitat.
The wood, highly sought for high-end classical Chinese furniture, has been overlogged in Hainan.
Nearly extinct in the wild, the species has a protected status and was identified as a threatened species by the International Union for Conservation of Nature in 1998.
Timber from the huanghuali tree is valued up to 3 million yuan per ton on the market, said Zou Shouqing, who participated in the introduction and cultivation of the rosewood.
The stolen branch has a circumference of 113 cm and a cross-sectional diameter of 24 cm, so is estimated to have a value of more than 1 million yuan.
The damaged tree may be difficult to save due to its old age, but gardeners are trying to help it survive.