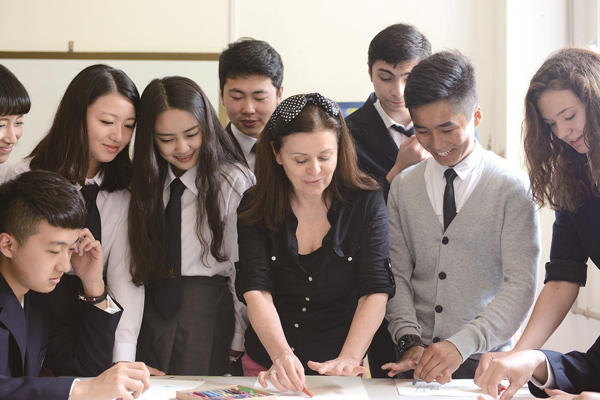 Students participate in a drawing class of Canadian courses at Maple Leaf's Dalian school. Provided to China Daily
China's international education has moved forward swiftly in recent years thanks to a warm welcome and policy support from local governments and real estate developers.
The release of China's National Outline for Medium-and Long-Term Education Reform and Development (2010-2020), which encourages schools at various levels to introduce high-quality overseas education programs, has made a measurable difference in the development of international schools across the country since 2010.
There are more than 330 international schools registered on the Chinese mainland, accommodating 180,000 students in 2014.
Maple Leaf Educational Systems, a leading player in China's international programs, is now operating more than 40 schools, accounting for 12 percent of the country's total. It is cooperating with local governments and developers to build new schools.
"The demand is huge. At least 11 governments are negotiating with us for cooperation," said Sherman Jen, a Chinese-Canadian who founded MLES and serves as its president. He was the first to bring Canadian educational programs to China in 1995.
For example, in Luoyang, Henan province, the number of middle-class families is increasing. Parents with money are hesitating to send their children to traditional public schools. Instead, they are turning to private schools in Zhengzhou, Shanghai and even Beijing.
"The newly built Maple Leaf school in Luoyang became very popular among middle-class families," Jen said.
Real estate projects surrounding Maple Leaf schools always sell well, he said. It is commonly believed that parents of students will buy two or three apartments near a school.
Luo Chongmin, a national educational inspector, said demand for international education will continue growing with the continuation of China's reform and opening-up.
"China's traditional educational system has long been closed and unified. Put on two wings - private education and international education - and it can revive and take off," he said.
Luo predicted that international education will soar in China in the next 10 years. Improved economic conditions and increase in family income require individualized and diversified educational resources, he said, adding that the purpose of education is to cultivate not only qualified citizens of a country but also citizens of the world.
Since the establishment of the first Maple Leaf school in Dalian in 1995, MLES has grown into China's largest group providing international education.
In November, MLES was listed on the stock market in Hong Kong. In its first year, there were only 14 students; now, it accommodates 16,000 in schools nationwide.
"As the first Chinese international school that introduced Canadian courses, and the first overseas school approved by British Columbia, MLES is an important member of the Canadian education community, as well as a window for Chinese people to understand Canada," said Guy Saint-Jacques, the Canadian ambassador to China.
Contact the writers at zhuchengpei@chinadaily.com.cn