In Beijing's Haidian district, a school is giving students a hands-on taste of the Olympics, inspired by the city's planned bid to host the 2022 Winter Games.
Yang Fang Dian Primary School hosted its 14th annual Olympic Culture Day last month, during which students made energetic presentations about recent Olympic Games and Paralympics before participating in a range of sports activities, from judo and aerobics to soccer, taekwondo, basketball and even a mock dragon boat race.
Special guests included players from the Beijing Guoan soccer club, who showed the school's young soccer fans their best kicks.
In light of Beijing's bid for the 2022 Winter Olympics, this year's festival included a demonstration of dry-land training for cross-country skiing.
The school, which was founded in 1945 and currently hosts about 1,200 students of primary and secondary school ages, was the first in China to adopt a comprehensive Olympic education program into its curriculum in 2001, after Beijing's announcement that it would bid to host the 2008 Summer Games.
It has also put a special focus on sports education, providing students with access to a wide range of activities, introducing them to the values of sports and organizing international exchange programs with like-minded primary and secondary schools in Germany and Britain.
After leading a successful bid for the 2012 London Games, Britain's former secretary of state for culture, media and sport, Tessa Jowell, paid a visit to the school.
"Yang Fang Dian is not a school designed for athletics purposes, nor are these students training to become athletes at the Beijing 2008 Olympic Games," she said. "Rather, it is more like your everyday primary school, with the exception that everything the kids do here embodies the Olympic values of unity and friendship. ... Thank you for helping to make the Olympic ideals a reality."
Norbert Muller, a member of the International Olympic Committee's Commission for Olympic Education and Culture, visited the school in 2007.
"Olympism is alive and can be found in all corners of this school. The implementation of Olympic education here is simply outstanding," he said.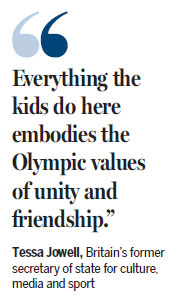 This year, in support of China's desire to encourage participation in winter sports, the school introduced special weekly classes in which students are invited to research information and make presentations about past Winter Games, as well as various other sports on the Olympic program, all the while learning more about such things as the cultures of host countries - Italy, Canada, Russia and South Korea, for example.
In January, the school also organized a special outing for its students to a ski resort in Zhangjiakou, north of the Chinese capital, which seeks to host the snow events of the Winter Games in 2022.
It was an occasion for the kids and their parents to learn more about the Beijing 2022 Bid and to get a personal taste of such winter sports as alpine skiing and snowboarding, supported by the teachers and ski instructors.
The school students were also introduced to skiing safety and etiquette.
GuGu Zhenrong, an 8-year-old school student, said: "If Beijing hosts the Winter Olympic Games, it will bring the entire world to Beijing! Can you imagine how much fun it would be?"
Yang Fang Dian school is one of thousands of schools and universities across China that create regular classes or special courses around Olympic values and sports awareness - an ongoing legacy of the 2008 Beijing Summer Games.
Wang Hui, director of communications of the Beijing 2022 Bid Committee, said: "Beijing 2022 will provide for a wide-ranging extension of the Olympic school education program nationwide, with millions of kids and teenagers offered opportunities to practice winter sports and to learn about the Olympic and Paralympic values."