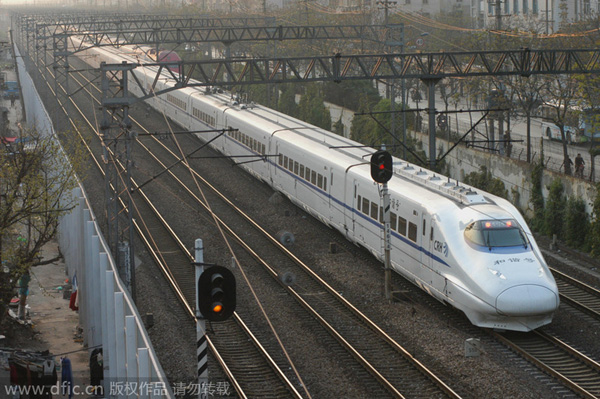 A CRH (China Railway High-speed) train runs on the rail in Shanghai, April 8, 2009. [Photo/IC]
China has become a world leader in high-speed railway technology with its development of a cutting-edge permanent magnet synchronous traction system that will take bullet trains to an ultrafast 500 kilometers per hour.
The advanced 690-kilowatt traction system was developed by CRRC Corp, the country's train-making behemoth, at its Zhuzhou Institute in Hunan province. It will soon enter mass production, said Ding Rongjun, a member of the Chinese Academy of Engineering who heads the institute.
"Now we have our own permanent magnet synchronous traction system with full intellectual property rights, marking a new chapter in China's high-speed railways," he said, adding that only a handful of countries are capable of manufacturing the sophisticated apparatus, including Germany and Japan.
Feng Jianghua, deputy director of the institute, said the adoption of the technology will reshape the high-speed railway industry because traction equipment is the most important part of a bullet train.
Currently, most high-speed trains in service in the world are propelled by alternating current asynchronous motors, a traction system first developed in the 1970s.
The Zhuzhou Institute began research and development on permanent magnet synchronous traction technology in 2003 after it noticed that major international train makers, such as Siemens and Bombardier, had launched projects to acquire the equipment, Feng told China Economic Weekly.
The magazine quoted Xu Junfeng, a senior engineer at the institute, as saying that engineers overcame a large number of technical difficulties. China had never looked at the high-tech equipment before the project.
After eight years, engineers completed development in 2011 and installed the advanced traction system on trains running on Subway Line 2 in Shenyang, Liaoning province, as a trial.
The test has proved successful, Xu said.
In December 2013, the institute brought the system to bullet trains, expecting speeds of 500 km/h. Trials were undertaken on several trains in October.
Jia Limin of Beijing Jiaotong University, who heads China's high-speed railway innovation program, said that if everything goes well, trains equipped with the new traction system will become fully operational by 2018.
Compared with an alternating current asynchronous motor, the new system boasts more power, simpler configuration and lower electrical consumption, Jia said.
"The new system has fewer parts than the current traction apparatus, so it is more reliable and efficient," he said.
Sheng Guangzu, general manager of China Railway Corp, has pledged to speed up the development of key technologies in high-speed rail and to design a new bullet train using Chinese standards.