China winning the race among high-speed railways
Chinese companies deliver what in many ways is a superior product - and at a significantly lower price
Media reports suggest Japanese Prime Minister Shinzo Abe would try to promote Shinkansen bullet train technology during his visit to the United States (which started on April 26) to cash in on US plans to prop up its economy with high-speed railways.
Obviously, Japan is competing with China to get a share of the high-speed train market in the US and some other countries. So which country has the upper hand?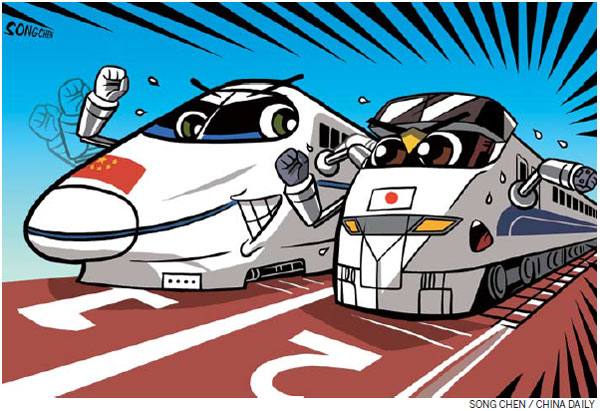 China may be a latecomer in high-speed train construction, but some of its technologies are better than other countries'. For example, one exquisite technological requirement is that the surface of the rails that touches the wheels must be delicately clean while the track geometry should be smooth, because even the minutest flaw could shake a train considering its high speed. This is just one of the areas in which China excels - the rails on the Beijing-Shanghai high-speed train line are so smooth that the test train reached speeds of 380 kilometers an hour without any evident shaking.
On another technological index - degree of ride comfort - the record of China's high-speed trains is good, too. Every train has to pass strict, even severe, tests before being pressed into service to ensure passengers enjoy the maximum comfort. Many passengers who have traveled by high-speed train in China and Europe say the former are better. On other indexes such as dynamic safety, too, China's high-speed railways show good performance.
Besides, China's high-speed railways are the least expensive in the world. It is globally acknowledged that the cost of building high-speed railways is the lowest in China. In October 2014, while bidding for the Boston subway program, China CNR Corporation Ltd, despite not bagging the contract, quoted a price that was only about 60 percent that of its Japanese competitor, Kawasaki Heavy Industries.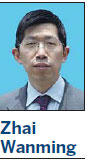 The incident prompted Japanese enterprises to accuse China of "dumping", albeit without any basis. China's high-speed railways cost less because of the low cost of labor in the country. High-speed railways require civil and electrical engineering, and all kinds of physical labor, which cost much more in a quickly aging society like Japan. And therein lies China's advantage.
Also, the low cost of China's high-speed railways has a lot to do with the lower profit requirement.
Another incomparable advantage Chinese high-speed railways have is the country's difficult geographical terrains. China has already built more than 16,000 km of high-speed railways across high plateaus, mountains, plains and deserts. Working in such terrains, Chinese engineers and workers have gained precious experience to deal with difficulties of any kind. Working together, engineers and other technical experts, and manual workers, have developed a strong spirit of teamwork spirit and mutual trust.
Of course, the Japanese, too, have their advantages. Masaki Ogata, executive vice-chairman of East Japan Railway Company, said in a recent interview, that Shinkansen technology can prevent damage to high-speed railways during earthquakes, and has advantages in environmental protection and noise control.
Indeed, Japanese high-speed railways enjoy these advantages. But China is developing its high-speed train technology fast enough to catch up with the best by, among other things, funding research teams to develop advanced monitoring and early warning systems, and quake-resistant technology to ensure the safety of high-speed railways. Even in environmental protection, China has gained enough experience while building the railway that connects Lhasa, Tibet with Qinghai province.
In short, China's high-speed railways are good in quality and competitive in price, and will definitely be better in the future.
The author is a chair professor at Xinan Jiaotong University and a member of the Chinese Academy of Sciences. The article is an excerpt from his interview with China Daily's Zhang Zhouxiang. The views do not necessarily reflect those of China Daily.
(China Daily Africa Weekly 05/01/2015 page12)