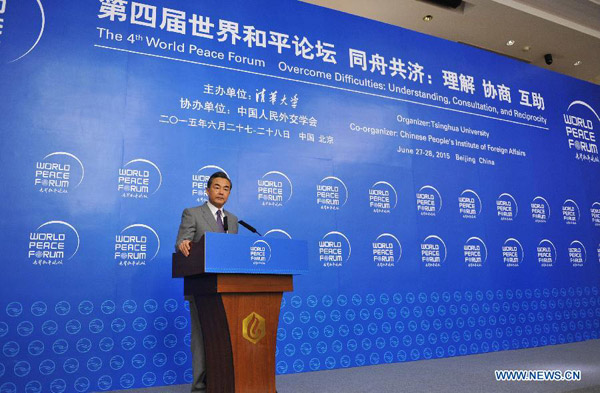 Chinese Foreign Minister Wang Yi speaks at the luncheon of the fourth World Peace Forum in Beijing, capital of China, June 27, 2015. [Photo/Xinhua]
BEIJING - Chinese Foreign Minister Wang Yi said on Saturday that the crux of China-Japan relations is whether Japan can sincerely accept and welcome China's revival and rise.
Wang made the remarks when asked to comment on China-Japan ties at the Fourth World Peace Forum(WPF) at Beijing's Tsinghua University.
China's development has brought important benefit to Japan, but Japan is not fully prepared in its mindset for an increasingly powerful China, said Wang.
China and Japan are close neighbors, and we hope the two countries can live in peace and engage in mutually beneficial cooperation, he said, adding it is an established policy of China and will not change.
As time drifted, China-Japan relations will surely be back on track of normal and stable development, sooner or later, he said.
This year marks the 70th anniversary of the victory of the World Anti-Fascist War and Chinese People's War of Resistance Against Japanese Aggression, said Wang.
Japan still faces the problem of how to properly deal with the historical issue, he said.
Externally, Japan can draw on useful experience from other countries in handling historical issues, while internally, it faces rising public appeals for justice and peace, said Wang, noting that the key is what kind of choice will the Japanese leaders make.
Whether Japan will choose to stay in the historical shadow or to realize true reconciliation with the victimized countries and jointly creat the future, will be a major problem right in front of the Japanese leaders, said Wang.
We will wait and see the choice of Japan, he said.
The WPF, founded in 2012, is China's first high-level non-governmental seminar focusing on international security.
With the theme of "working together, understanding, coordination and mutual help", the forum included topics of security cooperation among world powers, security cooperation in the Asia-Pacific region, European and global security cooperation, ASEAN and South Asian regional security cooperation.
Some 500 participants, including former foreign leaders and scholars, attended the forum.