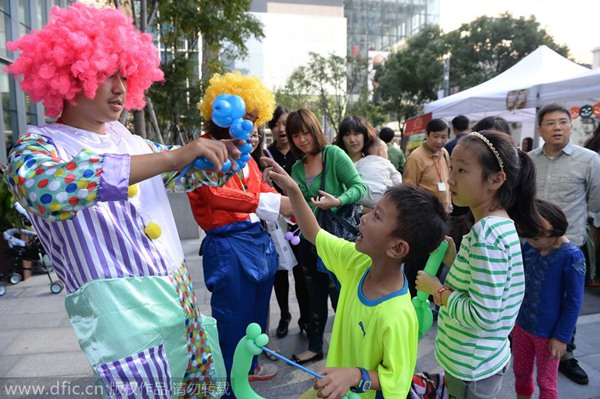 Street artists perform before crowds, attracting much attention in a square in Shanghai on Oct 25, 2014. [Photo/IC]
Street artists have been given permission to perform in Shenzhen after going through an evaluation process, Shenzhen Metropolis Daily reported.
Shenzhen authorities have issued certificates to 68, making them the first allowed to perform with government permission.
Permits allowing performing arts, visual arts and creative craft have been issued with holders entering monthly draws to win the right to a site at an appointed square in Shenzhen, cnr.cn reported.
Authorized artists have signed an agreement to put on civilized, low noise performances with healthy content at appointed times and areas, which also urges performers to help keep public order and maintain environmental cleanliness.
The move is not the first of its kind in China.
Shanghai launched a pilot program to provide legal spaces for eight authorized street artists in October. Regulations previously prohibited anyone putting on commercial activities in public places.
Until now, 16 street artists have the right after obtaining permits issued by the Shanghai Performance Trade Association.
Lack of regulation towards street performers has long been a problem for local authorities. Because of legal loopholes and lack of management personnel, some people beg or blackmail money from audiences in the name of performing arts.
In some places, obscene performances are rampant while some performers generate conflicts in securing performing sites.
Noise is another issue drawing concern. "Residents are bothered by the noise from dozens of loudspeakers used by some street artists in a neighboring square. This is the most reported complaint", said Cao Zhiliang, head of an integrated enforcement team in Lianhua street, Futian district, Shenzhen, according to Southern Metropolis Daily.
Though problems arise from street performances, it is an integral part of a culture that makes a city different from others. Street artists have become a distinctive sight in some American and European cities which give them a sense of "humanity and vitality," said Luo Huaizhen, a playwright, who became the first to submit a proposal giving street artists legalized status in 2004. "It is what our cities lack and expect," Luo added.
Related: No more running for authorized street artists in Shanghai