Street performers who used to gather at the Central Business District in southern Chinese megacity Guangzhou are rarely seen these days following an eviction. Musicians from different backgrounds made the city's commercial hub an open theater. Local newspaper South Metropolis Daily tries to find out what got them there.
Christian, 55, native of Lyon, France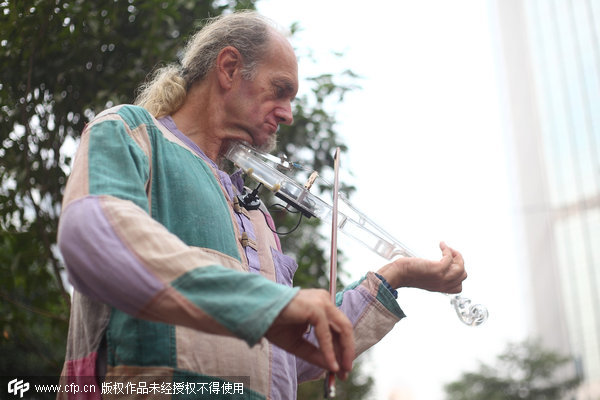 Christian from Lyon, France, plays violin at the Central Business District in Guangzhou, Oct 31, 2014. [Photo/CFP]
Wherever he goes, he takes his violin with him.
The Frenchman decided to quit carpentry and followed his passion of playing violin at the age of 20. He learnt to play the instrument after discovering that his family's strained financial situation wouldn't allow him to be a full-time musician.
He took to the street as a performer after four months of self-learning process, only to find it hard to make ends meet with a beginner's skill.
As he perfected his musical techniques, the troubadour-alike lifestyle took him to many countries. His violin "with magic power", as it's says on his name card, has brought him to different Chinese cities since he settled in Hong Kong in 2006.
He worked briefly at a Western-style restaurant in Yangshuo, South China's Guangxi Zhuang autonomous region, after finding himself cash-strapped as street performing couldn't offer a stable income.
The violin, along with his grayish ponytail, has helped him stand out in Guangzhou's CBD.