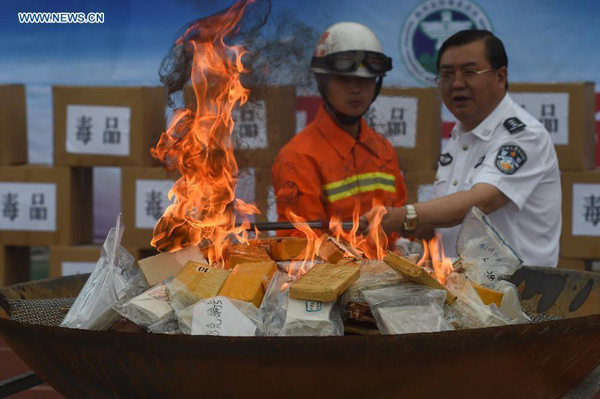 Police officers destroy drugs in Guiyang, capital of Southwest China's Guizhou province, June 23, 2015. The local police destroyed more than 1,200 kilograms of drugs on Tuesday, three days ahead of the International Day Against Drug Abuse and Illicit Trafficking. [Photo/Xinhua]
BEIJING - The Golden Triangle in Southeast Asia remains the largest drug source for China's traffickers, accounting for over 90 percent of narcotics seized by law enforcement agencies in 2014.
A Cabinet report on China's drug situation released Wednesday underscores the threat posed by the region incorporating parts of Laos, Myanmar and Thailand, despite efforts at cross-border cooperation.

Most of the heroin and methamphetamine consumed in China came from the Golden Triangle, the report said. In 2014, Chinese law enforcers captured 9.3 tonnes of heroin and 11.4 tonnes of methamphetamine.
The amount of Golden Crescent heroin seized in China was not alarming, but the threat shall not be ignored, the report warned.
Potential heroin production in Afghanistan was estimated at 670 tonnes, the largest producing area in the world. Heroin imported from the region accounting for 1.4 percent of total seizures in China in 2014, in over ten provinces.
Cocaine from South America also entered China from time to time, detected in 12 provincial regions, said the report.
One in 100 Chinese may have used narcotics: report

China had 2.95 million registered drug addicts at the end of 2014, but the real number who have used narcotics is thought to exceed 14 million, the Ministry of Public Security said on Wednesday.
That means one out of 100 Chinese may have used drugs, said Liu Yuejin, assistant minister of public security.
The direct economic losses caused by drug use in the entire country have hit 500 billion yuan ($80.54 billion) annually, Liu said.
Although the spread of traditional drugs such as heroine has been largely curbed, the number of identified synthetic drug addicts has risen sharply to 1.46 million, six times the number in 2008.
Drug users are becoming younger, according to the ministry. Among the 480,000 newly identified drug users in 2014, 29,000 were under the age of 18 and around three quarters were under the age of 35.
In the past, drug users were mostly the unemployed, farmers, private business owners and migrant workers. Now the demographic is expanding to include significant numbers of employees of public institutions, freelancers and entertainers, said Liu.