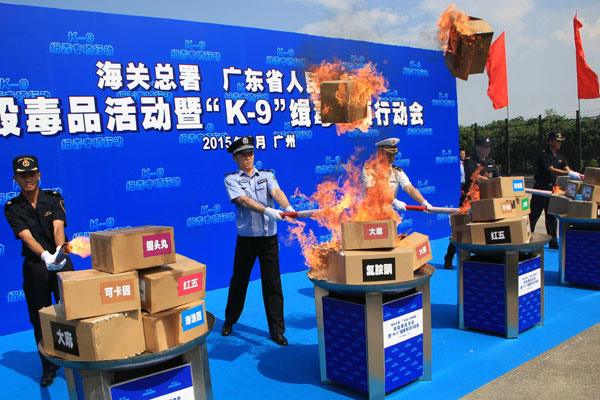 Police destroy drugs in Guangzhou, Guangdong province, on Monday. Zou Zhongpin / China Daily
Another 120 police dogs will be sent to customs offices across the country in the next two to three years to help bust drug-related crimes.
Dogs are playing an indispensable role in fighting drug smuggling, said Guan Xiangying, an official with the Anti-Smuggling Bureau of the General Administration of Customs.
They have helped police with nearly 500 cases since 2010 involving 1.5 metric tons of drugs, including heroin, methamphetamine, cocaine, ketamine and tons of phenylacetone, a chemical used to produce drugs.
In one case, several dogs worked with 30 customs officers in Shenzhen, Guangdong province, in September to capture members of a gang smuggling drugs between Shenzhen and Hong Kong. One of the gang's cars contained 17 kg of ketamine.
China ranks high in the use and training of dogs for the customs department's anti-drug efforts. A memorandum of understanding signed with the World Customs Organization in 2012 turned dog training bases in Beijing and Ruili, Yunnan province, into WCO Asia-Pacific dog training centers, Guan said.
China has 180 dogs doing customs work. Fifty dogs from customs offices across the country and some police offices in Guangdong will be sent to customs check points in Guangzhou, Shenzhen, Huangpu, Gongbei and Jiangmen in Guangdong in a monthlong campaign against drug smuggling.
The dogs' keen sense of smell combined with high-tech devices and related intelligence are expected to increase drug spotting throughout the campaign, code-named K9, which started in Guangzhou on Monday. Working dogs, or canines, are known internationally as K9 teams.
Contact the writer at liwenfang@chinadaily.com.cn