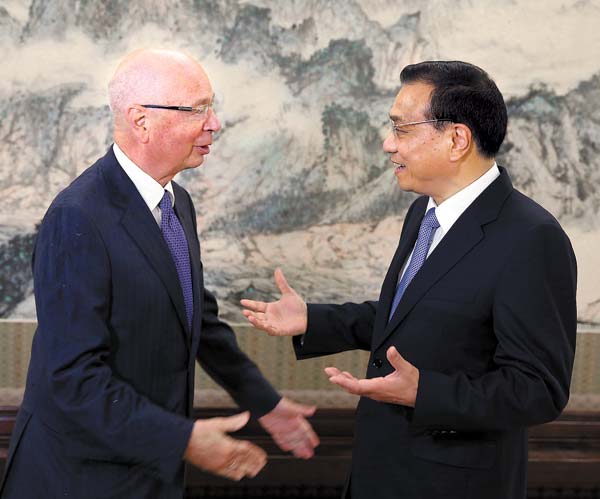 Premier Li Keqiang meets Klaus Schwab, founder and president of the World Economic Forum, in Beijing on Wednesday.  [Photo by Wu Zhiyi / China Daily]
China's plans for an international meeting in Dalian in September include promoting global cooperation over industrial capacity, a policy the country believes will increase external demand and benefit the national economy.
A session for promoting international industrial capacity cooperation and economic restructuring and upgrading will take place during the upcoming annual meeting of the New Champions, or Summer Davos, in Dalian, Premier Li Keqiang said.
Li made the remarks as he met on Wednesday with Klaus Schwab, founder and president of the World Economic Forum.
Global cooperation over industrial capacity refers to pairing China's industrial capacity, such as equipment manufacturing, with the advanced technology and management experience of developed countries before selling the technology to a developing market that is in need of infrastructure upgrading and industrialization.
Li said that such cooperation will benefit both China and the global economic recovery.
Major economic indexes in industries, investment, consumption, imports and exports have steadily picked up since May, while at the same time the momentum of job creation is also healthy, Li said.
China will continue to adjust its development model, restructure the economy and promote the quality of economic expansion to ensure that the economy will maintain medium-to-high growth, he added.
Schwab recalled Li's speech in Davos, Switzerland, in January, which he said was well-received by the audience and has "shown the importance of China in global affairs and created trust in the community in the future potential of China".
During his speech at the World Economic Forum in Davos, Li said that a more liberalized market and reformed government would become two important engines of China's future economic growth.
A midyear report from the People's Bank of China said that more evident recovery is expected in the third quarter this year, following a bigger-than-expected slowdown in the first six months.
The Chinese government forecast the economy will grow at about 7 percent this year, the slowest rate in 25 years. But if the target is met, China's 2015 GDP will still be $800 billion more than it was last year.
At an event in Beijing on Tuesday, Schwab said it's important for China to maintain the 7 percent economic growth rate.
However, he added, even if China's economy enters the "new normal", moving toward slower but more sustainable growth, the country could double the size of its economy in 15 years if it achieves 5 percent economic growth, or in 24 years if it maintains 3 percent growth.
Contact the writer through zhaoyinan@chinadaily.com.cn