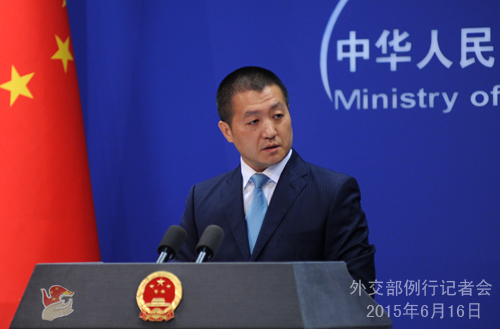 Chinese Foreign Ministry spokesperson Lu Kang speaks at a press conference, June 16, 2015. [Photo/fmprc.gov.cn]
BEIJING - A Chinese Foreign Ministry spokesperson urged the Japanese government to take tangible action to get the trust of its neighbors on Tuesday.
Lu Kang told a routine press briefing that China has noticed Japanese Prime Minister Shinzo Abe's recent remarks on history and new security bills.
In an interview with Hong Kong-based Phoenix TV, Abe said that Japan will not walk the same path it did 70 years ago and its new security bills will not lead to military conflicts with China.
This year is a significant year, for it marks the 70th anniversary of the victory of the world anti-fascist war, according to Lu. He said it is reasonable that neighboring countries are concerned about Japan's move in security and military fields.
Japan's Diet is debating new security bills that would expand the scope of operations by the Self-Defense Forces, in contravention of Japan's postwar security policy.