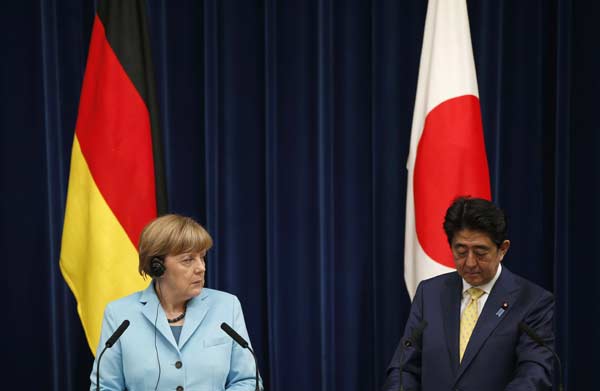 Germany's Chancellor Angela Merkel (L) and Japan's Prime Minister Shinzo Abe attend their joint news conference after their talks at Abe's official residence in Tokyo, March 9, 2015. [Photo/Agencies]
Germany has offered the world convincing evidence in both word and deed that it has learnt the lessons of its past. The apologies offered by former leaders such as Konrad Adenauer, Willy Brandt and Richard von Weizsaecker and the sincere remorse it has expressed have won Germany the forgiveness of those countries that suffered from its aggression and brought the German nation into the embrace of the international society.
In sharp contrast, Japan has become increasingly elusive toward its past. Quite a few Japanese political figures have failed to exercise self-restraint and even set a bad example by provoking Japan's neighbors, goading the Japanese society onto the rightist road, as indicated by their attitude toward Yasukuni Shrine. Relevant statistics indicate that since 1945, 15 Japanese prime ministers have paid 68 visits to the place where 14 Class-A war criminals are honored along with other war dead. The ruling Liberal Democratic Party has six times submitted a proposal on nationalization of the controversial shrine.
Despite the sufferings Japan's militarism inflicted on Asian victims during World War II, most postwar Japanese governments and politicians have failed to adopt an objective and responsible perception on historical issues and paid minimal respect to the countries and peoples once deeply hurt by Japanese militarists. Alarmingly, some Japanese political organizations and figures have demonstrated obstinacy in paying honor to war criminals whose hands were stained with the blood of victims. Such disregard of the historical facts and international justice has time and again hurt the feelings of the peoples of China and other Asian countries.
By facing up to history, Germany has displayed its courage and wisdom. By denying its history and wartime crimes, Japan has revealed its mean mind and militarist wishes.
The above is an abridgement of a People's Daily article published on Monday.