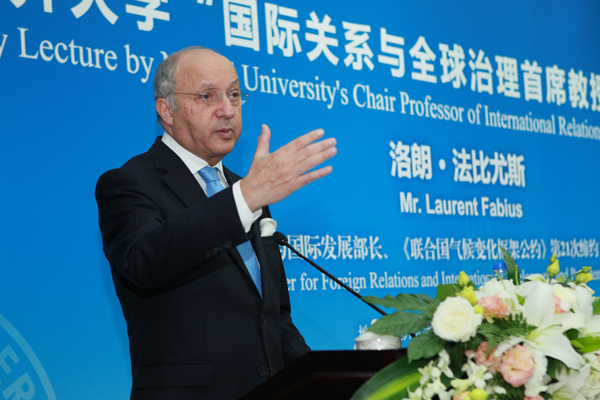 Laurent Fabius, Foreign Minister of France speaks on climate change at Nankai University in Tianjin on May 16. [Photo provided to China Daily]
With most of the Western European countries following the United Kingdom's lead and ignoring Washington's heavy handed attempts to dissuade them from signing up for the Asian Infrastructure Investment Bank, it is clear they are willing to accept proposals from China aimed at realizing Chinese President Xi Jinping's calls for the world to form a community of shared destiny.
The latest indication of this came from France. Laurent Fabius, who served as prime minister between 1984 and 86 and has been foreign minister since May 2012, gave an eloquent speech at a forum on China's "Belt and Road Initiative" on Friday, which was organized by the French Regional Council of Haute-Normandy.
As foreign minister, he said, he has just wrapped up his 10th tour to China and this frequency, higher than his number of visits to the United States, shows the importance his country attaches to China.
Chinese Ambassador Zhai Jun jokingly noted that Fabius has visited China more times than he himself has flown back.
Putting China's rise in its historical and global context, Fabius said in his speech that the country is "writing new chapters of world history."
He said that the Belt and Road Initiative indicates that China is actively assuming its growing global responsibilities by offering such public goods.
Therefore, he says, from a strategic point of view, France has to endorse and participate in the Silk Road Economic Belt and the 21st Maritime Silk Road so they become a "China-France Road."
Saying Xi has turned a new chapter in China's opening-up and reform drive, Fabius pointed out that in the past France had not responded well enough to embrace the development opportunities offered by China, and it could not afford to lose the opportunities presented by the Belt and Road Initiative. He said his country should match its agenda to the initiative.
Fabius' understanding of the importance of the Belt and Road Initiative was acknowledged by Chi Fulin, a scholar and adviser to China's leadership, who said Fabius is the first top-level foreign official who has elaborated on Xi's proposal "clearly, solidly and comprehensively".
Showing his earnestness to engage with Chinese businesses, Fabius spent the whole morning and lunch time at the forum talking with attendees.
Normandy is the foreign minister's hometown, an area rich in tourism and commercial resources, and he said the area can benefit from the Belt and Road Initiative by seizing the opportunity of the exponential growth in Chinese investment and Chinese tourism. The number of Chinese tourists to France is expected to more than double from 2 million to 5 million in the coming three years.
However, the modern Silk Roads will be much longer than the ancient trade routes developed roughly 2,000 years ago. And the content and connotations will go beyond trade and tourism as well.
The same as other Western European countries followed the lead of the UK and joined the AIIB, so they are likely to follow the lead of France and publicly announce their active endorsement of the Belt and Road Initiative soon.
The author is China Daily chief correspondent in Brussels. fujing@chinadaily.com.cn