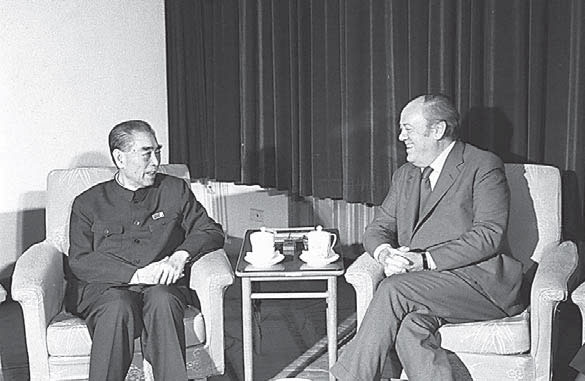 Chinese premier Zhou Enlai and vice-president of the European Economic Community Commission Christopher Soames on May 5, 1975. Photos provided to China Daily
Forty years ago on May 6, Qiao Guanhua, then China's foreign minister, and Christopher Soames, then European Commission vice-president, agreed to establish diplomatic relations between China and the European Economic Community. Since then, through many ups and downs, Beijing and Brussels have maintained a constructive partnership, increased their trade volume manyfold, and boosted political trust and people-to-people exchanges.
The two sides are now ready to celebrate the success of their 40-year diplomatic relationship. High Representative of the EU for Foreign Affairs and Security Policy and EC Vice-President Federica Mogherini will attend a program and hold her first strategic dialogue with State Councilor Yang Jiechi in Beijing on May 6. On the same day in Brussels, Brussels' top officials will attend a joint event organized by the Chinese Mission to the EU and the European External Action Service.
China and the EU are scheduled to hold the sixth round of talks on the bilateral investment treaty in the beginning of June, which can help pave the way for a free trade agreement. After that Premier Li Keqiang will attend the EU-China Summit in Brussels, which, among other things, will focus on mutual development priorities and consolidating the partnership of peace, growth, reform and civilization, as proposed by President Xi Jinping during his historic visit to the EU last year.
To mark the 40th anniversary of China-EU ties, China Daily's European Weekly published a special edition this week. Although it is risky to guess the overall stage of China-EU ties in the next 40 years, one can focus on the yuan and euro, education, environmental protection and infrastructure.
Regarding the development of the yuan and euro over the next decade, I spoke with Chi Fulin, president of China Institute for Reform and Development, and Paul De Grauwe, professor of London School of Economics and Political Sciences. Chi is very positive but cautious; he says the euro will be more stable while yuan will be more internationalized. And De Grauwe says yuan is a serious candidate to challenge the supremacy of the US dollar. Indeed, yuan could do that if China continues its domestic and external financial liberalization.
Hopefully, Brussels will support Beijing in this regard in order to curb the dominance of the dollar in the financial world. This stance has shown in giving China and other emerging economies more say in the International Monetary Fund and World Bank reform since the global financial crisis, and European countries' move to join the China-proposed Asian Infrastructure Investment Bank are strong signs of the things to come.
Meanwhile, China has to improve its higher education standards to attract more Europeans to study in China. China's competitiveness in education depends on using its capabilities to produce a constant pool of talents. If China wants its soft power to match its overall global influence and economic power, it has no option but to do this. And Europeans have set good examples for Chinese educators to follow.
Beijing and Brussels will continue to depend on each other to deal with environmental challenges. When the two sides established their diplomat ties in the 1970s, the Europeans had already started tackling the environmental problems and changing their development patterns by limiting their economic growth. China has started doing the same now. If Europeans could share their experiences with and transfer their cutting-edge technologies to China, it can be a win-win situation.
And infrastructure development can enable Europeans and Chinese to travel by high-speed trains from major Chinese cities to European capitals such as Brussels, Berlin, Paris and London. China may have such a plan, the first step being to link Beijing and Moscow. And if Europeans come on board, the high-speed train plan can be easily extended to European capitals.
The author is China Daily chief correspondent in Brussels. fujing@chinadaily.com.cn