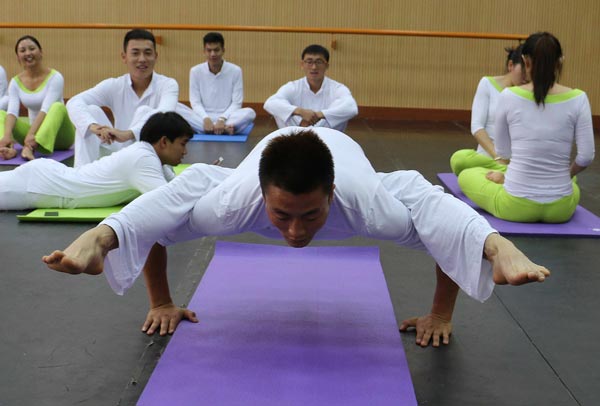 Students do yoga in Yunnan University of Nationalities in Kunming. The university established the country's first yoga college on Saturday and the college will start enrolling students in August. Provided to China Daily
Foundation stems from cooperation memorandum signed during Modi's May visit
China's first yoga college was established at Yunnan University of Nationalities in Kunming on Saturday, following a cooperation memorandum signed between China and India in May.
At the founding ceremony, Peng Jinhui, president of the university, said: "The university has confidence to build the college into an influential brand with its own characteristics, a platform for cultural exchange and a bridge for Sino-Indian friendship".
YUN and the Indian Council for Cultural Relations signed the cooperation memorandum during Indian Prime Minister Narendra Modi's May visit to China.
The college will not start enrolling students until August, according to Fan Jing, director of international affairs at YUN.
Fan explained that YUN has a long-term history of cooperation and cultural exchanges with India. It is one of eight institutions in China, and the only one in Southwest China, offering Hindi as a language major.
"YUN has sent around 30 of its Hindi language students to study in India for a year since 2011," Fan said.
In 2011, they studied at the Entrepreneurship Development Institute of India in Gujarat state, where Modi, a yoga enthusiast, was chief minister from 2001 to 2014.
"The arrival of our students was covered by the local media, and Modi met our students at that time. So he knew our school," Fan said. "The Chinese students President Xi Jinping met during his visit to India visit last year were mainly from our school."
Over the years, YUN has established a good relationship with the consulate general of India to the point where students and teachers can obtain their Indian visas within 48 hours, Fan said.