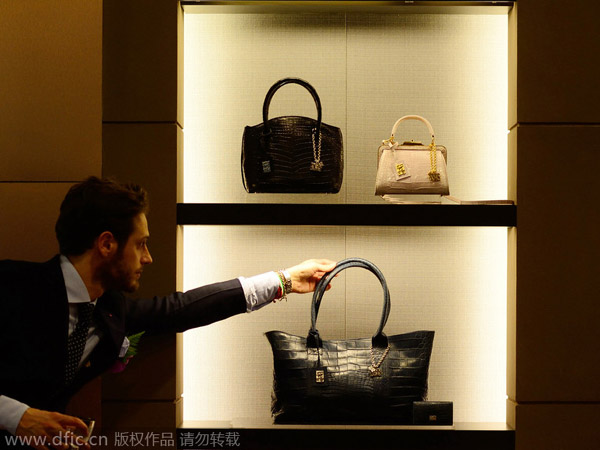 A employee puts a handbag on the display shelf in a store in Hangzhou, Zhejiang in May 18, 2013. [Photo/IC]
About 64 percent of Chinese consumers choose to purchase luxury products abroad instead of in China, according to a survey.
Other than in Hong Kong, Macao and Taiwan, international markets have seen the most growth in luxury goods consumption. The growth rates were 27 percent in 2014 and approximately five percent in 2015. A favorable exchange ratio between the RMB and foreign currencies has played a key role in the change.
"Lower prices" (88.9 percent) and a "guarantee of authenticity" (83.5 percent) are the two leading factors pulling luxury buyers abroad.
In 2015, 36.2 percent of Chinese have chosen to buy luxuries in the mainland, lower than 40.2 percent in 2014. The markets in Hong Kong, Macao and Taiwan for Chinese luxury buyers are also dwindling, dropping 1 percent from last year.
Chinese consumers spent about $106 billion on luxuries in 2014, which was 46 percent of the total global volume, according to data released on January 31. China's domestic market and international markets each drew $25 billion and $81 billion, meaning 76 percent of luxury purchases happened abroad.
The three most popular luxury products in 2014 were watches (53.8 percent), electronic devices (45.9 percent) and cosmetics, perfumes and personal-care products (43.1 percent). These rankings have been consistent through 2012 to 2014.
Some 64.4 percent of Chinese consumers hope domestic stores will have more competitive prices, comparable to those overseas. Multiple big brands, such as Chanel, have announced they will lower their prices in China while raising them in European stores, cutting discrepancies between the two.
The data comes from a luxury brand report released by Fortune on June 11.