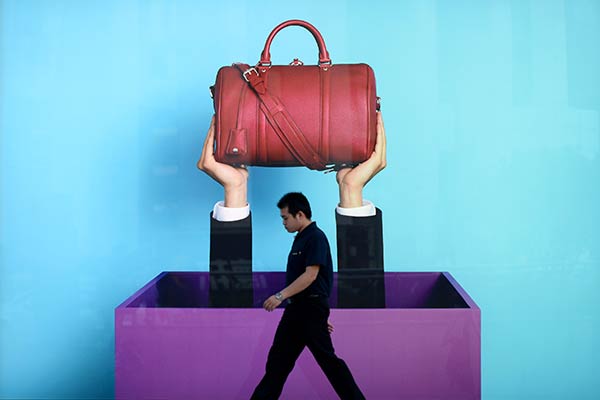 A man passes Louis Vuitton's advertisement in Wuhan, Hubei province. [Photo / China Daily]
The luxury malls of Beijing are enticing and warm, with carpets so plush they yield underfoot and shop assistants as exquisite as the items on sale. Some shops do not display prices at all, others display merchandise behind locked glass doors, and assistants wear gloves when presenting goods to potential buyers.
The hushed atmosphere and glossy interiors of Shin Kong Place, the Yintai Center and the Peninsula Arcade are a world away from the fast food and frenetic activity of the capital's mass-market malls.
The likes of Chanel, Hermes and Prada woo consumers with craftsmanship, exclusivity and indulgence. But on a February weekend, during one of China's busiest shopping periods of the year, Beijing's beautiful high-end stores appear bereft of customers.
The Chinese are not out of love with luxury, far from it. The 2014 China Luxury Report, from the Shanghai-based research center Fortune Character Institute, says total overseas luxury purchases by Chinese consumers rose 9 percent to $81 billion and that luxury purchases in the domestic market fell 11 percent to $25 billion.
"We do buy things in China," said Gu Feng, a 29-year-old book editor who lives and works in Beijing. "We go abroad more for luxury brands. Luxuries are more expensive here. I am more of a Taobao type," she adds, referring to China's online shopping behemoth run by the Alibaba Group.
On a business trip to London between November and January, Gu bought gifts for friends and relatives, including a $650 Burberry handbag and fragrances from Chanel and Estee Lauder. "The most expensive purchase is definitely the Burberry handbag. It is for a close friend."
After failing to find the item at Piccadilly Circus in London, Gu headed to the Burberry outlet store at Bicester Village, Oxfordshire. "You might expect, for a bag with such a high price, you could get it easily-not much competition, not so many people can afford it, right? But the reality is just the opposite."
Luxury items cost more in China than they do overseas, but there is no such thing as a luxury tax. Additional taxes-consumption, import and value added-can sometimes increase the price of an item in China so much that it is cheaper to buy a plane ticket and buy the same item abroad.
Small wonder, then, that Gu said her friend was very happy with the Burberry handbag, "mostly because it saved her a fortune".