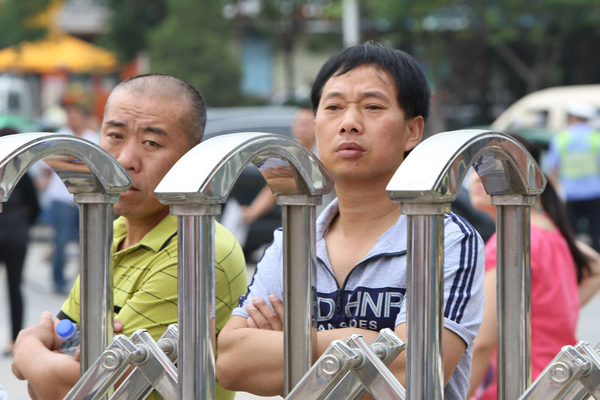 Parents of students taking the national college entrance exam wait anxiously at the gate of a school where the Gaokao is held in Yuncheng, North China's Shanxi province, June 7.[Photo/IC]
Besides, Law enforcers have already seized 23 suspects in a special campaign to crack down on the sale of wireless devices used for cheating, as well as sale of self-proclaimed key to exam questions and the practice of using substitute exam sitters, according to the education ministry.
The national college entrance exam, commonly known as gaokao, is usually considered the most important exam for Chinese students as it determines whether they can enter a university and whether they can be admitted to desired departments. Because the stakes are high, cheating is a recurring problem.
More than 80 education officials, teachers, invigilators, students and even parents received punishments ranging from warnings to dismissals in Hubei Province in central China after last year's "Gaokao."
About 9.42 million Chinese high school graduates, slightly less than the population of Sweden, will take this year's exam.
Undercover reporter's cheating story debated
Some media industry insiders and researchers applauded the courage and resourcefulness of the journalist and praised the report for providing solid proof and detailed descriptions about the secret process behind the illegal replacement of students for the annual exam, or gaokao.