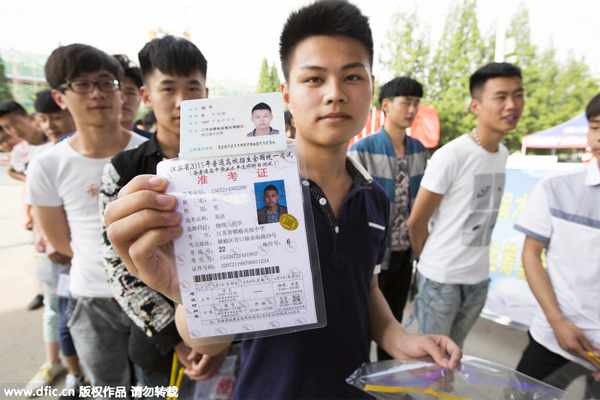 A young man shows his admission ticket before attending the Gaokao in Lianyungang, East China's Jiangsu province, June 7. [Photo/IC]
Students in Jiangxi province taking the ongoing national college entrance exam should expect a stricter check on their identities on Monday after authorities captured two people taking Sunday's tests for other students.
"The provincial Education Department and Education Examination Authority have informed their local branches as well as exam venues to strictly conduct identity checks to ensure the safety and order of the exam," Cao Zhenglong, deputy Party chief of the Jiangxi Education Examination Authority, said at a news briefing on Sunday afternoon.
On Sunday morning, police in Nanchang, the provincial capital, detained a man in the middle of the Chinese language test after media reported he was attending the exam under another student's name.
The Ministry of Education said it had asked the public security ministry to oversee the investigation and that cheating in Gaokao could amount to a punishable crime in serious cases.
Also on Sunday afternoon, another unidentified person was caught taking the national exam under someone else's name in Yingtan, Jiangxi, the provincial examination authority said.
Southern Metropolis Daily in Guangdong province reported on Sunday morning on Sina Weibo that one of its reporters had infiltrated a fraud gang that hires university students to take the two-day national college entrance exam for "clients".
The hired test takers produce a fake ID at the exam venue and can get a considerable reward if they get a high score, which helps the client win a place in a top-tier university, the report said.